Meet Chef Charlotte, owner of Divine Appetite Cafe & Catering!
Stories connect us; they create this beautiful space where we can share & bond over one another's experiences. Stories are not just limited to written and verbal communication. Some express themselves through dance, song, or theater. Charlotte Akoto of Divine Appetite Café in West Chester (more affectionately known as Chef Charlotte), tells her stories through her cooking. Each delicious dish contains hints of her culinary past and present. 
A Flavorful Journey
Chef Charlotte has an extensive culinary background. She's been a student in the classroom as well as a student of the world. She grew up in Ghana, cooking alongside her grandma. Stirring stews, rolling dough and loving every minute of it. Her fervent interest in food only grew stronger with time.
She moved from Ghana to England to attend culinary school. There, she honed her craft and took her talents to the states. Charlotte worked at several 4-star restaurants in New York City; consistently wowing diners with the interesting flavors she incorporated. Her meringues were so spectacular, they were featured in a Julia Childs' pastry chef book!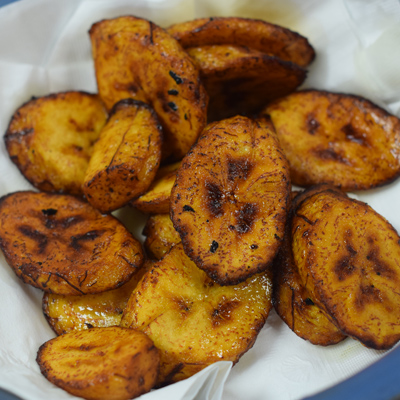 She eventually made her way to Southwest Ohio to be closer to family. She saw a need for West African flair in the area and filled it with her soulful delicacies.
Her talents are now reserved to delighting visitors in her very own restaurant. She takes you on a flavorful journey with each meal. Pieces of her history are sewn throughout Divine Appetite Café. 
Her Ghanaian roots are evident in her spicy cooking, lively music, and vibrant décor!
Charlotte's Delicious Dishes
I consider myself an adventurous eater, so when asked what I would like for lunch, I went with, "I trust you." Charlotte fixed me a plate with generous helpings of traditional West African foods. I was floored by the spice and flavor. 
My favorites were the curried chicken and vegetables, plantains that were cooked to perfection, Jollof rice, and Yucca Root – a starchy tuber rich with vitamins. If you're a West African food first-timer, let Charlotte know and she'll cater something perfect for your tastes.
More of Charlotte's staple dishes include red snapper, red beans & rice, goat, grouper, and lots of onion and tomato. She also enjoys making a wide variety of sweet desserts— especially pies. 
Step into Divine Appetite Café and sample the spectacular tastes & stories of West Africa.
8982 Cincinnati Columbus Road | West Chester, OH 45069
Check out Divine Appetite Cafe & Catering on Facebook!
---