If you haven't visited the city of Hamilton, Ohio in awhile (or ever) you're in for a treat of a trip. Hamilton has crafted a new identity that's inspiring and imaginative. A mix of urban revitalization meets a thriving arts community meets unique boutique shopping. It's a cool place to be.
We thought it would be fun to see different ways we could spend some Hamiltons in Hamilton. Grab a few from your wallet, mix and match a combination of paid and free and spend some time exploring! We'll even throw in a few free tips on ways to stretch those Hamiltons.
To Hamilton, Ohio we go!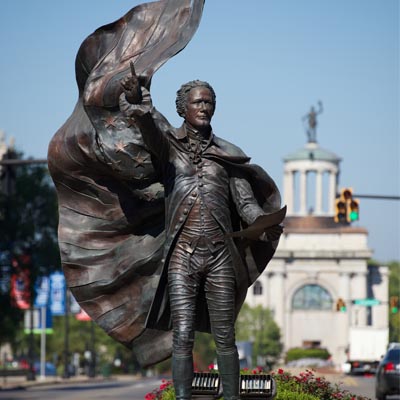 Around One Hamilton...$10ish
Anyone else have fond childhood memories of warm, gooey cinnamon rolls? The Almond Sister Bakery has recreated that magic in their downtown Hamilton bakery. Two giant cinnamon rolls will ring up around $6.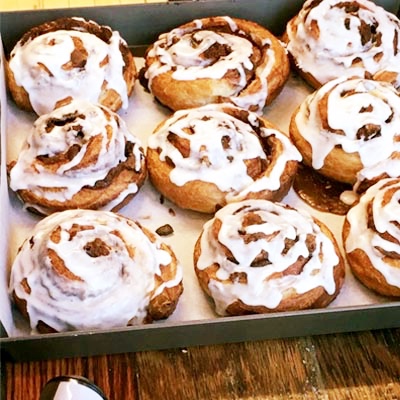 Photo: The Almond Sisters
After chowing down and getting your fill of cinnamon-y goodness, walk briefly down the street and around the corner to the Make Way for McCloskey Mural. This mural pays homage to Hamilton author, Robert McCloskey, and was designed by a Hamilton artist, Stephen Smith. With a donut machine, baby ducklings and foraging bears, you're guaranteed a great selfie. If you walk around the corner to Heritage Hall you can see the McCloskey Donut Machine in person.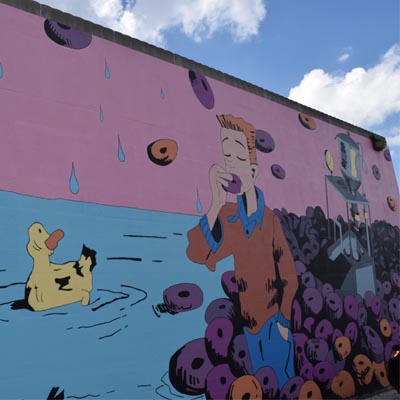 Hop in the car and drive just a little way down the road to the second mural of the day, Alexander Hamilton. This bold color block depiction of Hamilton's namesake is just too cool to miss. Free fun is always a win.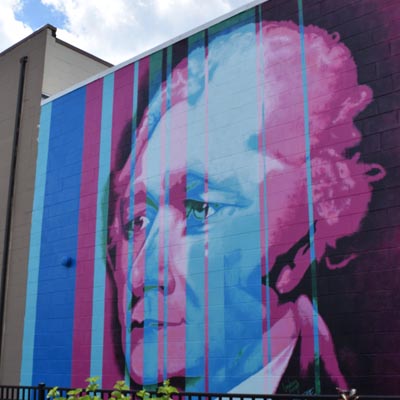 This adventure wraps up with a visit to a park that's Hamilton adjacent, Rentschler Forest MetroPark. This 400-acre park has hiking trails, access to the Great Miami River Recreation Trail and frontage along the Great Miami River. This park is a great place to escape and connect with nature and get a Zen like feeling. A daily MetroParks permit is $5, or $10 for an annual permit.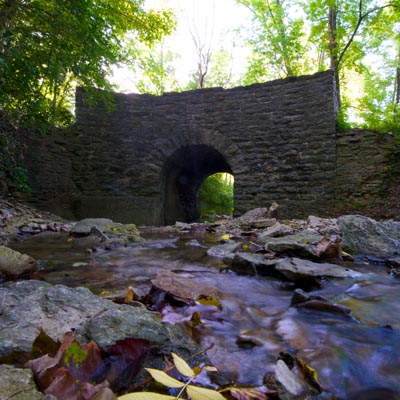 Total Adventure Cost:
$6 - $11 depending on the park permit selected
Around Three Hamiltons...$30ish
Start the day at True West Coffee where the flavored lattes reign supreme. With a tasty list including Milky Way, Zebra, Pumpkin Spice, Raspberry Truffle etc, this may be the most difficult decision you have to make all day. Two flavored lattes will ring up around $8.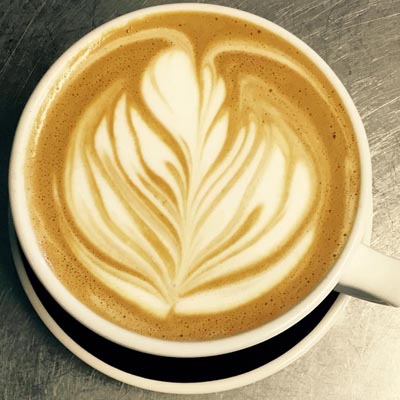 Photo: True West Coffee
Next up, head up the hill to Pyramid Hill Sculpture Park & Museum. A family of four including two kids ages 6-12 will run you only $22. Explore this gorgeous monumental sculpture park, the Ancient Sculpture Museum and use your phone to grab a new family photo. We're sure another park-goer will help you capture the moment. If you're feeling inclined pack a picnic, there's plenty of places to enjoy a scenic lunch.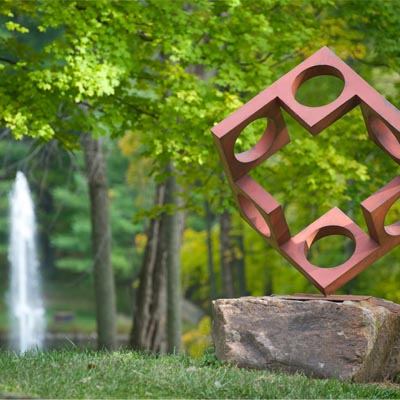 Want to skip the lattes in favor of libations? Stop by and check out the awesome atmosphere of Municipal Brew Works. Their patio is perfect for relaxing, catching up and chatting the afternoon away. Two pints will cost around $10.50 plus the tip we're sure you'll want to give to their friendly staff.
Pyramid Hill Sculpture Park & Museum Ticket Prices
Adults - $8
Children (6-12) - $3
Children (5 and under) - Free
Total Adventure Cost:
$30 - $35
Around Ten Hamiltons...$100ish
Shopping and a show are on the docket for this adventure. With awesome shops like Sara's House, InsideOut Studio, Made to Love and Front Room on 7th there's a bounty of ways to spend your Hamiltons. Many of these shops are in walking distance of each other. Stroll, shop hop and explore everything downtown Hamilton has to offer!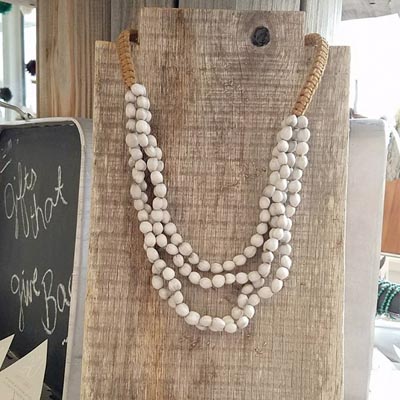 Photo: Made to Love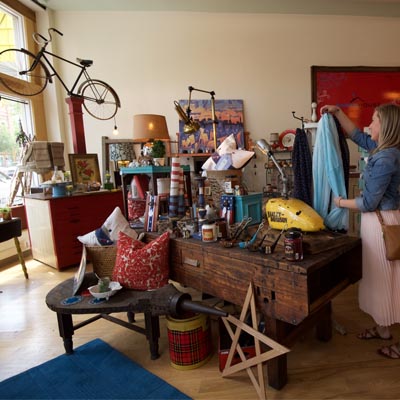 Sara's House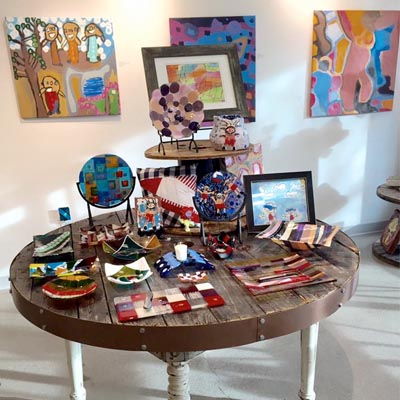 Photo: InsideOut Studio
After you've shopped the unique boutiques of Hamilton, a show at the Fitton Center makes for a memorable grand finale. An exciting 2016-2017 lineup of shows provides plenty of options.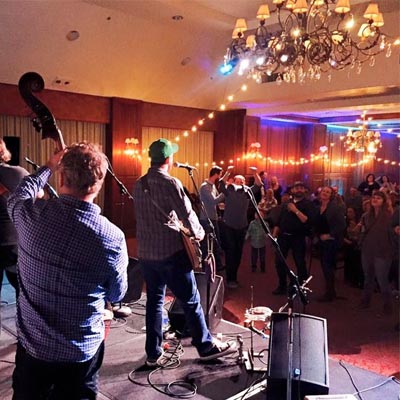 Photo: Fitton Center
Ways to stretch your Hamiltons:
Check out RiversEdge's concert lineup, they often host free concerts. The Fitton Center also offers free art exhibitions that rotate throughout the year. If you opt for a free show/exhibition (or you just want to splurge a little over your $100) stop in to High St. Café to grab a delicious meal.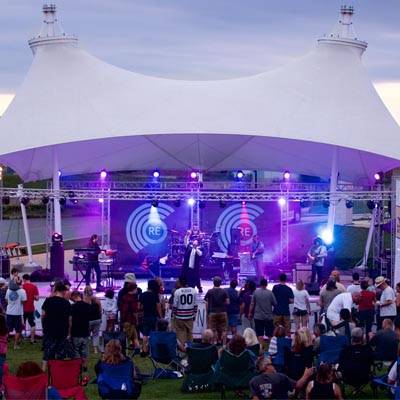 Total Adventure Cost:
Depends on your shopping habits! But we'll assume you spent $50 while shopping and around $50 on show tickets.
Anywhere from $10-$100 you can get creative, have a great time and choose your own Hamilton adventure!

---