You may notice a few unfamiliar sights and sounds in Hamilton's beloved sculpture park. Pyramid Hill will be alive with the work of Craig Colorusso, an innovative artist who explores the crossroads of light, sound, and space through his profoundly beautiful sculptures. Experience the dream-like state that Colorusso creates through Sun Boxes and Cube Music. 
Colorusso's installation, Sun Boxes, will inhabit Pyramid Hill from July 20-29. The Sun Box exhibit is comprised of 20 speakers, each one operating independently. The speakers are powered by the sun through the use of solar panels. Each box is set to play a different guitar note continuously. Collectively, the guitar notes coming from the solar speakers create an interesting sound called a Bb chord. This harmonious sound is both soothing and energizing. Pyramid Hill's gorgeous backdrop of nature and sculpture provide an idyllic setting for this contemporary installation. The daily Sun Box locations will vary depending on Colorusso's evaluation of the sun.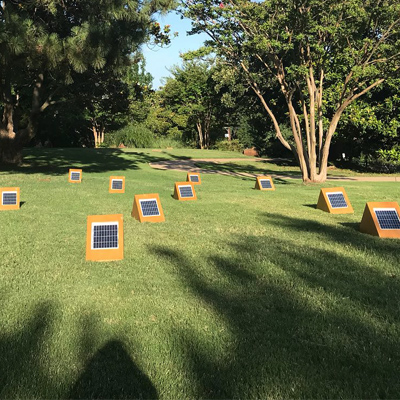 Photo: Craig Colorusso
In addition to the Sun Boxes will be the indoor light and sound installation, Cube Music. Cube Music is a sound installation created from aluminum, guitar, and light that will transcend Pyramid Hill's Museum Gallery into an ethereal space of light and sound.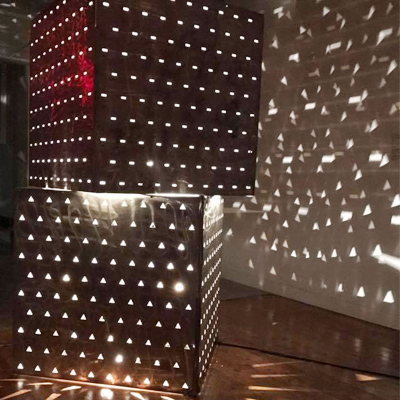 Photo: Craig Colorusso
Ways to interact with the Sun Boxes and Cube Music
Morning Yoga with Nancy Phelps and Sun Boxes
Ignite your body and soul with a morning yoga class and the soothing sounds of Sun Boxes on July 29, 8:30-9:30AM
Summer Music Series for Kids
Make Music with Envision Partnerships on July 25 from 12-1PM near the Pavilion 
Drum Circle with Sun Boxes
Join 3rd Street Music for a drum circle surrounded by Sun Boxes on July 27 at 7PM
Don't miss this fascinating glimpse into the world of light and sound. The Sun Boxes & Cube Music will be on display during park hours July 20-29.
1763 Hamilton Cleves Rd.
Hamilton, Ohio 45013

---