I lose all of my inhibitions when I think something is really funny. I double over, expose my large grin, and let out a booming laugh that fills the room. This kind of carefree joviality is what I experienced at the Funny Bone Cincinnati at Liberty Center. This premiere comedy club features live standup performances from both local and world-renowned comics.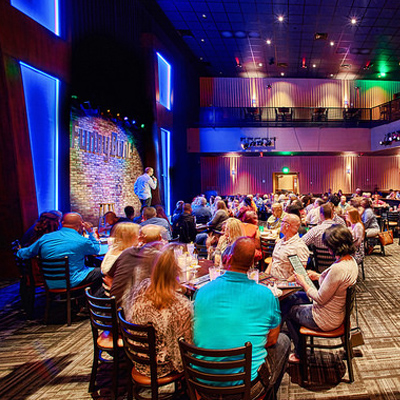 Photo: Liberty Center Cincinnati / Todd Joyce 
I attended a fantastic show with headliner John Caparulo and his opener, Mark Ellis. Caparulo, an Ohio native, skyrocketed to comedy stardom from his guest appearances on Chelsea Lately and The Tonight Show with Jay Leno. Both comics put on an incredible set, making topical jokes on everything from Star Wars to the lifestyle changes that come with new fatherhood. They captured everyone in the room and had me roaring with laughter. The comedians even made themselves available for photos with fans after the show.
The Funny Bone is an ideal venue to enjoy some killer standup. With an ample mix of small and large tables for guests and an overhead balcony, every seat in the house is a great one to watch the action on stage.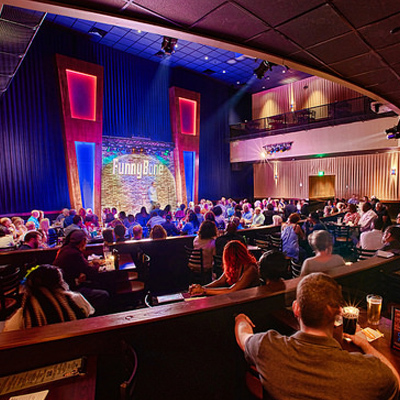 Photo: Liberty Center / Todd Joyce 
Dine & Unwind
Grab a drink upstairs at the full bar before the show and then mosey down to your seat. You'll be greeted by friendly wait staff with the option to have appetizers and dinner during the show! My personal favorite is the super flavorful spinach and artichoke dip.
Nothing pairs better with a glass of wine quite like the hilarity of live comedy. The Funny Bone Cincinnati at Liberty Center features different comedians every week and ensures you can belly laugh to your heart's content without judgement.
Feature photo: Todd Joyce/Liberty Center
7518 Bales Street
Liberty Township, Ohio 45069

---