I'm normally not a purveyor of clichés; however, there is one that I will forever abide by: It's the little things. Those little moments that mean so much – things like flowers persisting through the weeds, the songs that come on the radio that remind you of your 18th birthday or unexpectedly running into your best friend. I live for those moments. The scent of my self-poured candle has become one of those little things. Something small that brings me joy whenever I see it. Its soft, flowery aroma will always take me back to the day I created it at Petals & Wicks in Hamilton.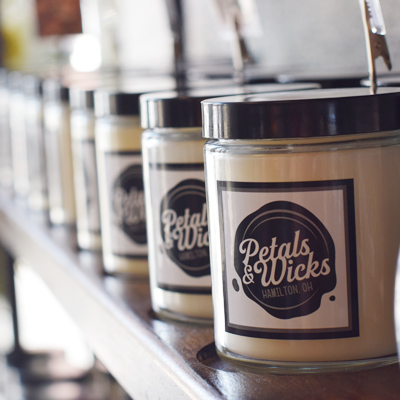 Petals & Wicks is a stylish candle bar that curates an experience centered around sweet scents and candle experimentation. Owner, Sherry Hoskins, cheerfully walks you through the entire process. She's a bona-fide Scentologist and guides you in the direction of your perfect, signature scent.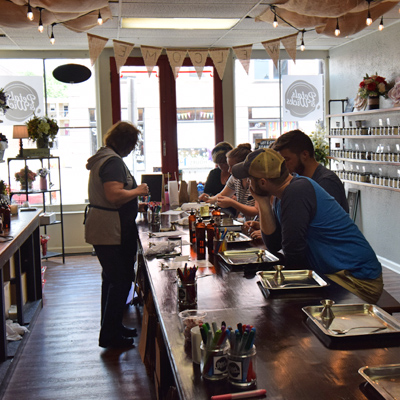 Sherry and her husband were admittedly not candle people until they had the opportunity to pour their own. After creating a scent with velvety notes of bourbon and honey crisp apple, they were hooked and wanted to share their new candle pouring knowledge with the world. 
The Process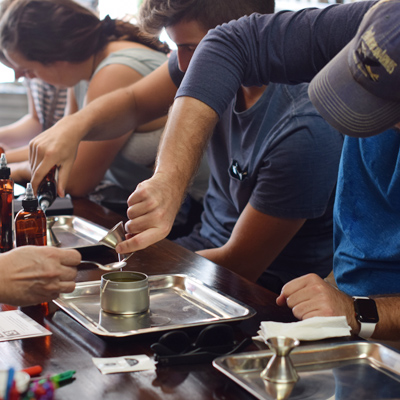 Stop & Smell the Roses… Or the Rose Scented Candles
72 scented candles line the wall of Petals & Wicks. With everything from lilac and agave to baked bread and amber musk, you're bound to find your flavor. Sherry gives you a tiny clipboard and encourages you to take a whiff of each candle and write down 5-15 scents you love. Pay no mind to whether or not the scents will mesh well together, that part will be sorted out later; just embrace the sensory overload.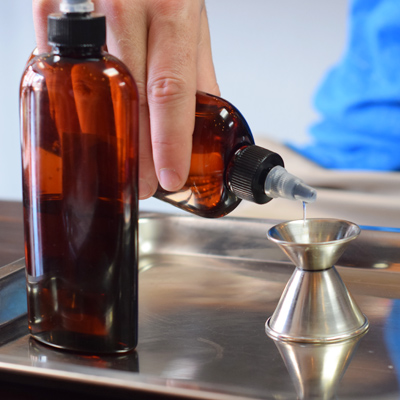 Once you have your scents chosen, Sherry will assist you in narrowing it down to three by asking the important questions, "Are you looking for something more floral? Or something a bit more clean?" etc. Once you mix your ideal blend of premium fragrances, Sherry will pour the soy-based wax into your desired container.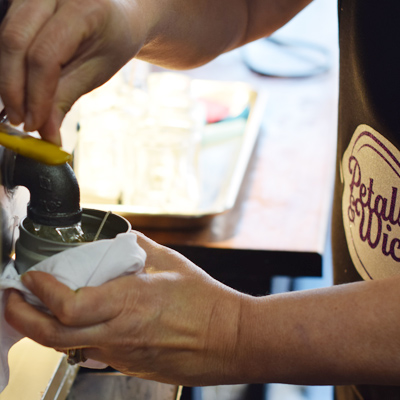 And then, we wait
It only takes about an hour for the wax to dry and your candle to be burn ready. While you wait, you could grab a frothy cappuccino from True West Coffee just down the street. 
My sweet creation consisted of lavender, honey suckle, and clothesline. Creating your own scent reminds you of your individuality. I can't wait to do it again.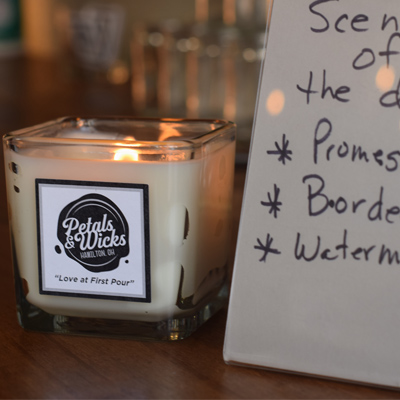 119 Main Street
Hamilton, Ohio 45013
---