The Coach House is a culinary gift to the vibrant Hamilton dining scene. Their passion and commitment to excellence is unwavering and made abundantly clear by their immensely dedicated team and tasty creations. They craft an experience that's inventive yet consistent. Every delicious dish, beautiful garnish, and welcome greeting is served with respect and sincerity.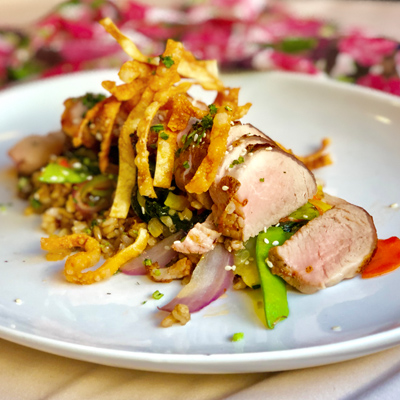 Sweet & Sour Pork - Photo by: Community First Solutions 
The Coach House's executive chef, Jared Whalen, is a man with a diverse and extensive culinary background as well as a vast attention to detail. Jared worked in world-renowned French restaurants and honed his skills at the New England Culinary Institute before returning to his roots. He is a fifth generation Hamiltonian and proud to be creating meals and experiences back in the spirited town that raised him. 
A Teacher & An Innovator
Jared is a teacher at heart; he's passionate about sharing his pervasive knowledge of cooking and the food industry with the fellow chefs in The Coach House kitchen. He wants this practice to perpetuate itself: chefs teaching other chefs. Each one has their own area of expertise, stories to share, and unique ways of crafting dishes.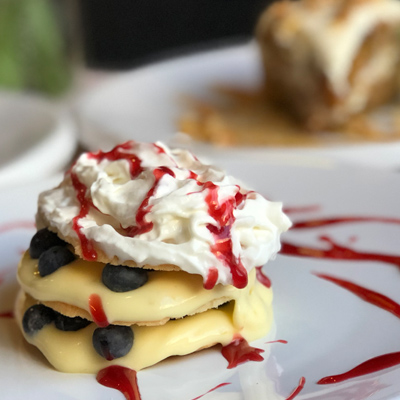 Lemon Berry Napolean - Photo by: Community First Solutions
Recently, I experienced the magic that is The Coach House. Their menu changes seasonally and reflect the flavors that nature gives us. Each dish is created with love and locally soured ingredients. They're incorporating rhubarb, asparagus, radishes, and more fresh tastes into an already impressive menu. I glanced at the new spring additions before arriving and couldn't wait for what was in store.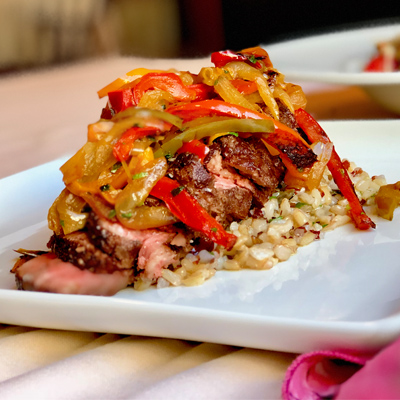 Oven Roasted Sirloin - Photo by: Community First Solutions 
Three Incredible Courses
Lunch began with an exquisite, Crustini Trio appetizer. Hummus, sun dried tomato & pesto, and a mushroom & goat cheese spread were perfectly portioned onto crisp pieces of baked bread. I couldn't think of a better, bite-sized introduction into The Coach House. 
I moved onto the main course with gusto. I savored the Grilled Spinach Wrap. Mushroom, roasted red pepper, caramelized onion, and spinach were neatly wrapped in a whole wheat tortilla and covered with ample amounts of parmesan cheese and garlic aioli. I wish I could get it again today. And then tomorrow. And the next day.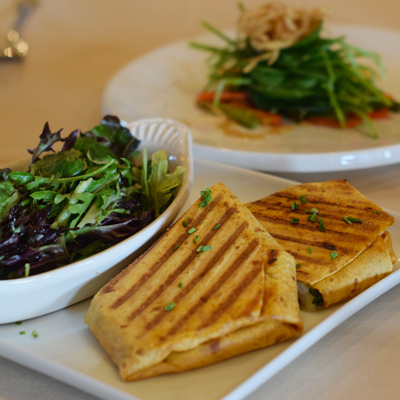 Sometimes, when the dessert menu is so fantastic, one just isn't enough. I noshed on homemade Carrot Cake and the most exquisite Berry Tart. The Berry Tart was topped with a heaping scoop of vanilla ice cream that made my heart sing. I'm still dreaming about both of them.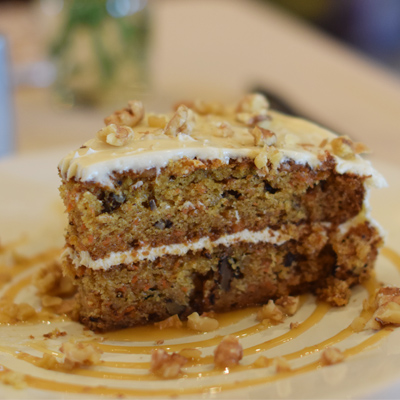 The Coach House in Hamilton, Ohio proves its excellence time and time again. They cater to comfort food tastes with fresh, innovative twists on classic favorites. Stop in for brunch, lunch, or dinner.
100 Berkeley Drive
Hamilton, Ohio 45013

---