EnterTRAINment Junction has been spreading the love of the locomotive for 10 years! They're celebrating their 10th birthday and we're reflecting back on all of the incredible attractions they have to offer. Train enthusiast or not, you'll be enthralled by the interactive world it creates. Head to EnterTRAINment through August 10th for special crafts and promotions.
10 Amazing Things about EnterTRAINment Junction
1. Largest Indoor Train Display
EntTRAINment is home to the world's largest indoor train display! 90 G-scale trains run over two miles of track, taking viewers on an interactive journey through three distinct periods of locomotive history. This 25,000 square-foot display is truly something you have to see to believe. The amount of detail work is immense. You feel as if you're there; living inside these tiny nostalgic cities, surrounded by bustling trains and city-dwellers.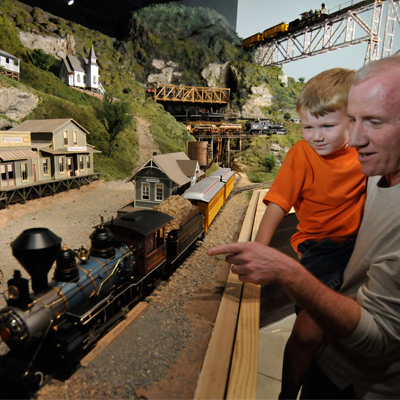 2. Mirror Maze 
Legend has it, there was an incredibly self-absorbed princess in England during the Dark Ages. For her 16th birthday, all she wanted was to see herself constantly and admire her own beauty. Her father was enraged by the request and built a maze made entirely of mirrors. Once she entered the maze, her father locked her in and she was never seen again! EnterTRAINment's mirror maze is an exact duplicate of the princess's maze.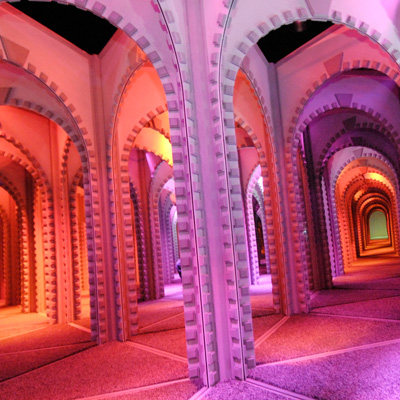 3. Coney Island Display
The Coney Island display continues to be a crowd favorite. The wistful replica depicts Coney Island circa 1965. The rides move, and Moonlight Gardens is booming with live music.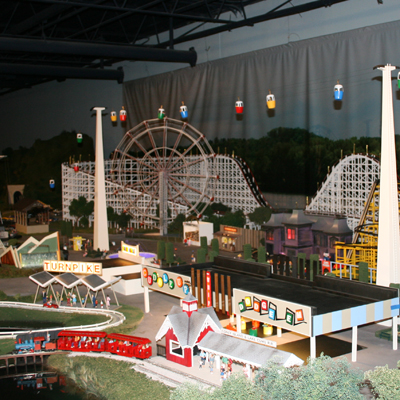 4. Junction Hobby Shop & Toys
The Hobby Shop is full of the greatest train keepsakes and collectables. They also have the largest selection of Thomas & Friends memorabilia in 1000 miles! Check out their LEGO selection and reasonably priced G-Scale Track.
5. Built by Train-Enthused Volunteers
The intricate displays and model cities were all created by volunteers! Members of the Greater Cincinnati Train Association and Dayton's National Model Railroad Association have been perfecting the display for the past 10 years. The figurine people were all painted by hand and there are thousands of them. Each one is unique to the scene that they're depicting. I was in absolute awe of the details. You can see soda inside their drinks and popcorn in their bowls at the model drive-in movie theatre, all the while trains zoom past them. 
6. Christmas at the Junction
Christmas at the Junction isn't just a holiday display, it's an immersive, North Pole, winter wonderland experience. Holiday-lovers take a magical journey with their wish lists in hand to speak to Santa himself in his festive study. Then, visit Mrs. Claus in her kitchen where she'll greet you with a fresh baked chocolate chip cookie.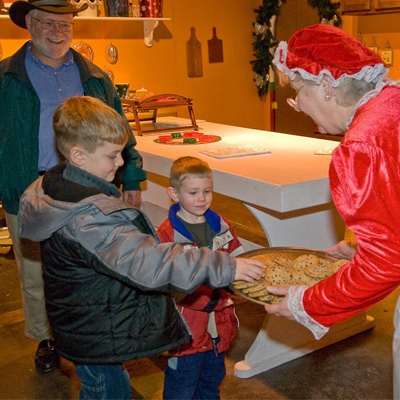 Photo: EnterTRAINment Junction
7. Train Museum
EntTRAINment's Museum gives train enthusiasts an in-depth history of this fascinating form of transportation and its growth and evolution over time.
8. Imagination Junction
The little ones will love Imagination Junction! The play area and Jungle Jim are created with both toddlers and tots in mind.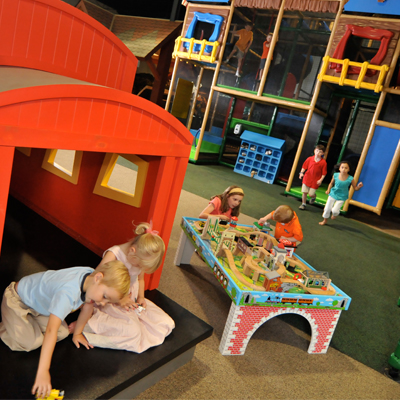 9. Optical Illusions
EnterTRAINment is full of mind-bending optical illusions in their Funhouse Zone. The Tilt Room makes you feel a bit discombobulated. The room is set at a 25-degree tilt that your brain never fully adjusts to. The same goes for the Ames Room. The perspective changes on each end of the room, making people bigger and smaller just by walking a few feet.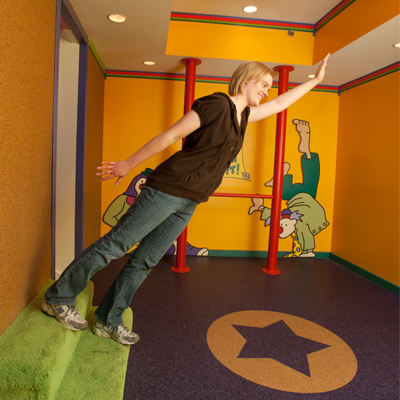 Photo: EnterTRAINment Junction 
10. Escape the Room 
EnterTRAINment created a breakout room of their own. Escape the Room has four different challenges to choose from. Take your best problem-solving friends and see if you have what it takes to decipher clues and escape the room in 60 minutes!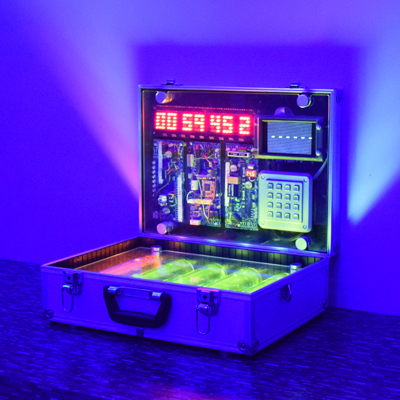 7379 Squire Ct
West Chester, Ohio 45069

---