The latest foodie craze has made its scenic journey from the West Coast all the way to our vibrant corner of Southwest Ohio. Sushi burritos are now wowing Ohioans and they're here to stay. Roll On In in Hamilton is creating the wondrous, eggplant-sized sushi burritos that we've been dreaming about since their first appearances on social media feeds across the globe. The ingenuity is undeniable. The sushi burrito, or more affectionately known as the sushiritto, allows you to take your favorite night in and/or date night food on the go. It's deliciously convenient and wrapped in a perfect blanket of rice and seaweed.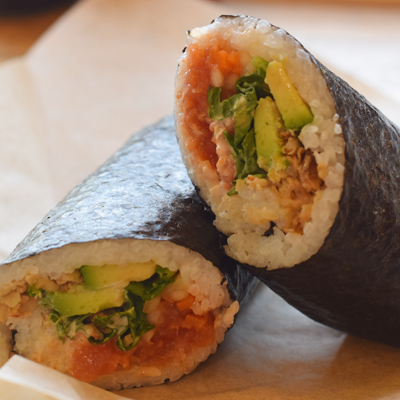 As an avid lover of both burritos and sushi, I knew this was right up my alley and supported this culinary merger. I indulged in my first sushi burrito last week and it certainly won't be my last.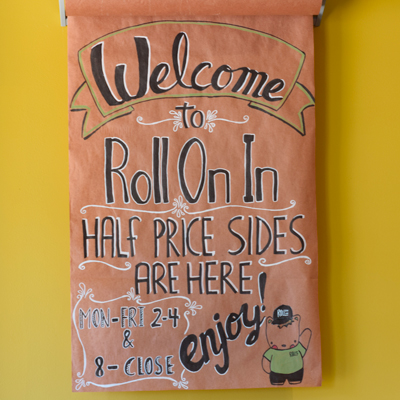 What Can't  They Put in a Burrito? 
The possibilities for sushiritto combos at Roll On In are endless. After your bed of rice is neatly laid out on a seaweed wrap, next comes the protein. There are 17 delicious protein options and 20 veggies and burrito fillers to individualize your sushiritto experience. You can take the traditional, albeit more adventurous route, and add raw tuna and salmon for the basis of your savory creation. Or, toss in some Panko Chicken, Tempura Shrimp, and even Sweet Chili Gyro meat. It's also incredibly easy to make these burritos vegetarian!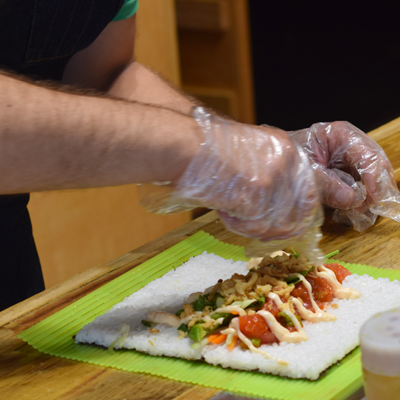 Roll On In inspires healthy eating choices and culinary creativity in their fast casual environment. If the burrito route isn't your style, no worries! Roll On In offers traditional burrito bowls as well. Your sushiritto destiny rests at this new Hamilton hot spot.  
Which creation will you come up with? I've found my ideal mix to be:
White Rice
Spicy Tuna
Avocado
Spinach
Scallions
Yum Yum Sauce
102 Main Street
Hamilton, Ohio 45013

---