Bundle up for an icy weekend in Hamilton! Take a sculpture-inspired journey around the City of Sculpture's incredible biannual winter festival, IceFest on January 18-19. 
This year's theme, Game Night, pays tribute to the fun-loving explorer in all of us, with ice sculptures depicting your favorite board games, arcade games, sports, heroes, and villains. 
 We'll cover what you need to know to make the most out of IceFest 2019!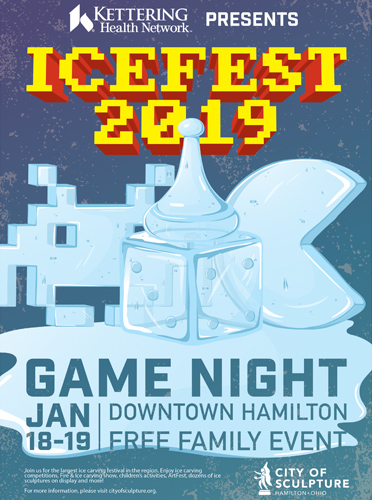 Special Events 
Donut Drop
We'll be the ones with the gigantic Plinko-inspired Donut Drop game and the sweet prizes that go along with it in the Artspace Lofts. Revel in your big moment at the top of the Donut Drop stairs and walk away with a coveted Butler County keepsake! Donut Drop with us Friday 5-7PM & Saturday 10AM-2PM.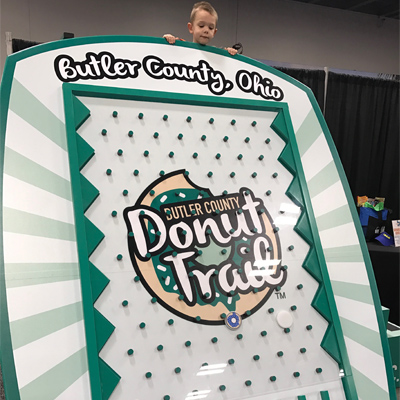 Ice with a Side of Ambiance
Spectacular ice carvings along the Butler County Courthouse Lawn will illuminate with vibrant colors for a unique, nighttime ice sculpture viewing experience. Wander and admire the Technicolor Ice Walk Friday night from sundown to 9PM.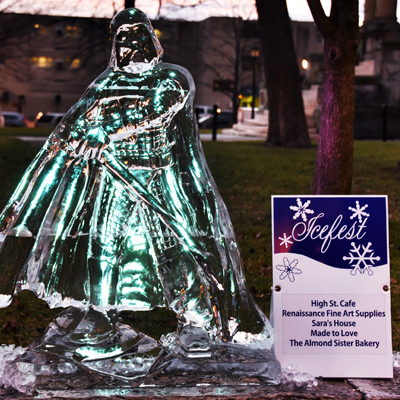 Fire & Ice
Watch the magic in action! Live large sculpture carvings will feature a fiery design element. Head to the Butler County Courthouse Lawn around 8PM. When the sun goes down, the sculptors will be lighting them on fire.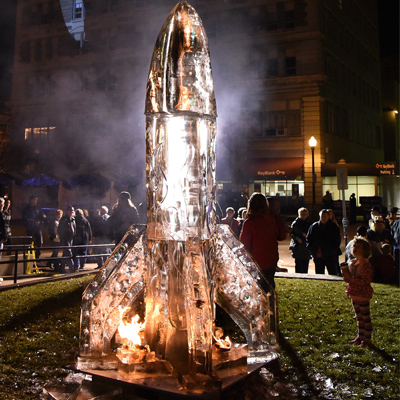 Competition Alley
Ten ice carvers from around the nation will compete to create your favorite ice sculpture! You'll have the opportunity to vote for the carving you find most incredible. The carver with the most votes will win the 2019 People's Choice Award!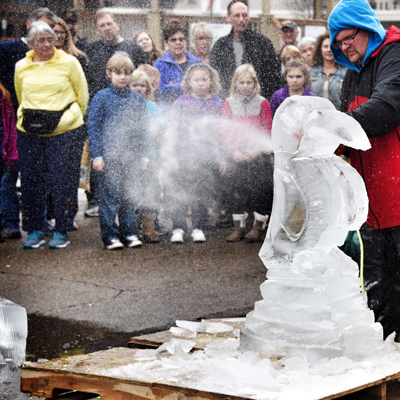 Speed Carving
The pros really get to show off their skills during the Speed Carving Demonstration. Blocks of ice transform into sculptures in a matter of 5-15 minutes during this sweet competition on Saturday at 3PM.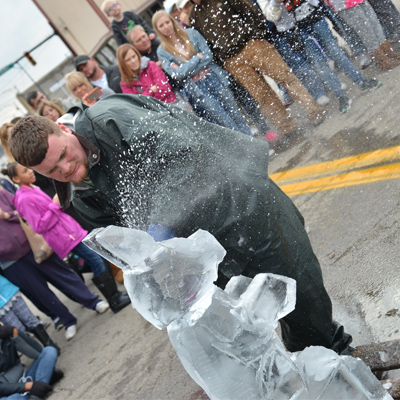 Photo: City of Sculpture
All Weekend Long 
Calling all pro and amateur photographers – Snap your IceFest experience and submit your photos for the Photo Contest! 
We're excited for you to discover this year's BCVB sculpture. When you find it, take a pic and use #bcinspired.
DORA on Ice
Sip on something ice cold this weekend. Walk around with a creative cocktail and enjoy drink specials all weekend long.
With this mix of art, ice, local eats & drinks, IceFest should definitely be on your agenda this weekend.

---