If your sweet tooth is anything like mine, or if you just like to have a delicious treat from time to time, then I have found a beyond delicious place you must try. Amazingly detailed artisan chocolates, mouthwatering fudge, and buttery caramels is what this shop is known for. With over 40 different creations, from classic chocolate to lemon to peppermint, amazing flavor combinations are waiting for you at Karma in the Kitchen.
Shortly after discovering this chocolate lover's heaven, I got the opportunity to sit down with the masterminds behind all of the delicious creations: 
Karma, the one who started it all.
Kendra, the ideas person.
Tammy, the queen of fudge and fondant.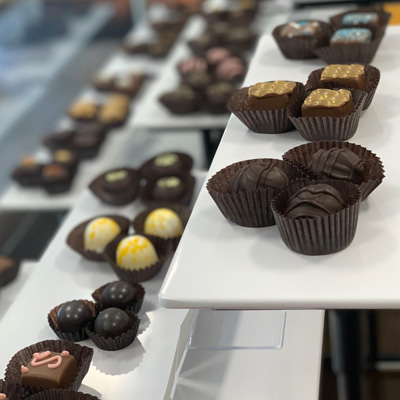 Originally, Karma in the Kitchen was an Esty shop. Around the time Karma's last son left home, a friend asked her to make chocolate for their clients. This got her thinking: if one person was willing to pay for her creations then maybe others would be interested too. The result? Her Esty shop was born! As her popularity grew, she realized she needed a place where people could pick up orders and see the full selection in person. In October of 2016, her shop had its grand opening!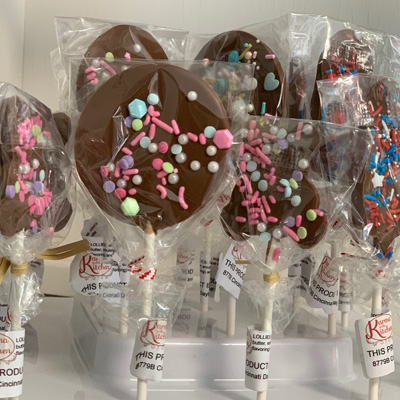 Karma laughingly refers to her bakery as "The Candy Kitchen". She personally makes all of the cookies, caramel, and other ingredients that make up the chocolates, and she uses real fruit and no preservatives. This makes for an amazing one-of-a-kind taste!
Karma joked that when she isn't working with chocolate, she's almost always thinking about chocolate. She confessed some of her best ideas have come to her during dreams in the middle of the night!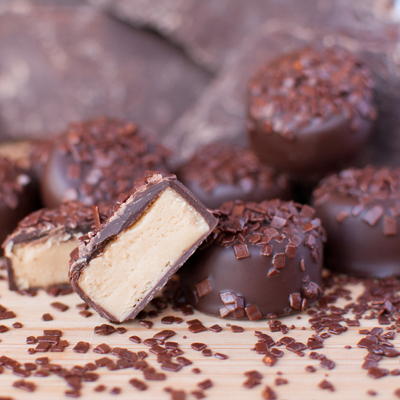 Photo: Heath Hawton
I wondered where Karma found the inspiration to begin making chocolates in the first place, and she told me that her mom made hand dipped chocolates all the time growing up. When Karma began to make her own chocolates, her mom was her toughest critic. She said this is because her mom always wanted to make her the best she could be – which you can definitely taste!
I asked the ladies what their favorite Karma in the Kitchen creation is and they all answered both their Peppermint Chocolate and the Cashmere Truffle. They feature the Peppermint Chocolate only during the holiday season, so get some while you can! The Cashmere Truffle is made of dark chocolate over brown sugar and flaked chocolate. Kendra also said one of her favorites is their peanut butter fudge.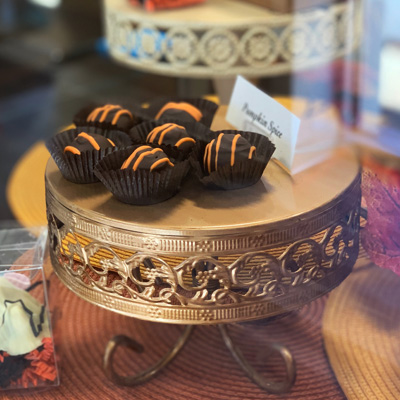 When I asked Karma about the most challenging creation they've made, she answered their Lemon Love; however, this is one of their best-selling treats. With all the steps, making a complete batch takes 8 days! It is definitely worth it though to make those delicious sweets – you can taste the amazing homemade lemon curd in every bite.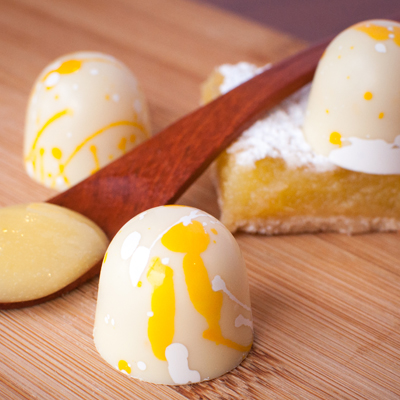 Photo: Heather Hawton
Overall, this little shop is full of both personality and creativity you will just have to experience (and sample) in person. To find out more about Karma in the Kitchen, and to taste the amazing creations, visit the shop at 8779B Cincinnati Dayton Rd in West Chester or at their website.

---