Marcum Park is a hub for creativity. Massive heart and guitar sculptures stand soundly on green grass, kids run through the splashpad, and the RiversEdge Amphitheater blasts with live music. This slice of park perfection completely embodies Hamilton. The City of Sculpture bursts with art, murals, and music. Marcum Park perpetuates this beauty.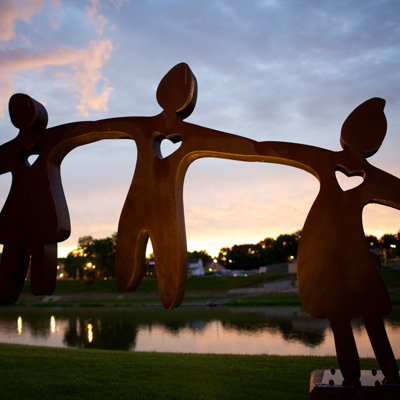 A Place Full of Life & Art
Saturdays in the summer are alive with art at Marcum Park. The second Saturday of May, June, July, August, and September the Hamilton Flea consumes the park. This curated, urban flea market features an immense selection of vendors, creators, movers, and makers. Grab a cup of local True West Coffee and peruse dozens of tents filled with stylish handmade jewelry, soaps, local jam, sweetly scented candles, and more. Share your flea finds on Instagram using #HamiltonFlea. Come to the next Flea on September 8!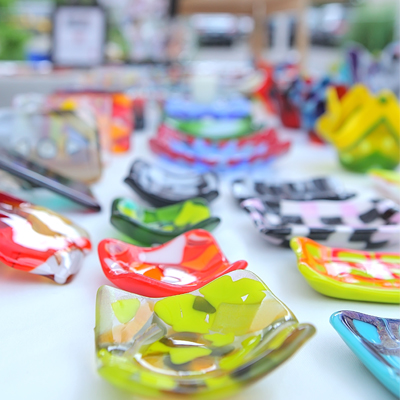 Photo: City of Hamilton
RiversEdge is the ultimate summer concert venue. They put on 15 FREE concerts every summer! The views alone are nothing short of incredible. The Great Miami River runs alongside the amphitheater and ebbs and flows along with the music. The acts create an energy among the crowd that's almost palpable. The summer concert lineup is full of diverse and talented musicians with a stage presence that commands your attention.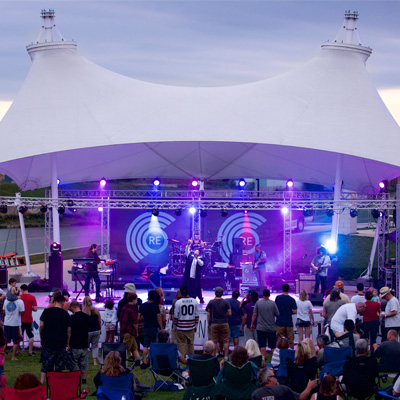 This past year at the Whimmydiddle Country Music Fest, world-renowned musician Tyler Childers, one of the biggest names in Bluegrass music headlined the event. Fun Fact: he thinks everyone is Hamilton is "so nice," he said so on his Instagram post.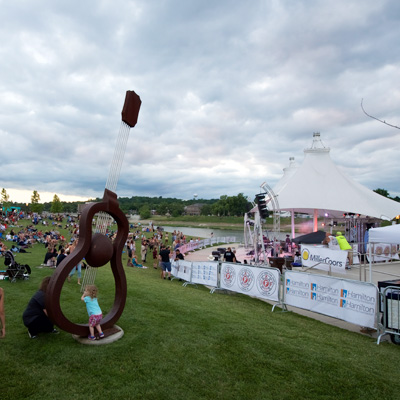 Don't Miss David Shaw's Big River Get Down
On September 8th, Marcum Park will be hosting their biggest event of the year: David Shaw's Big River Get Down. David Shaw is the lead singer of The Revivalists and a born and raised Hamiltonian. The band performed at RiversEdge in 2013 and 2014 and David Shaw approached the city about doing an all-day music festival. And thus, the Big River Get Down was born in 2015. This music fest is the perfect way to wrap up summer. Check out nearly a dozen acts. You can walk to breweries and restaurants before the show and soak up some final moments of summer patio time. Get your tickets soon before they sell out! 
This park emits all kinds of Jam!lton whimsy. Spend an afternoon here to see what makes it so special. 
116 Dayton Street
Hamilton, Ohio 45011

---