What's your pumpkin picking personality? Plump and vividly orange, perfectly round, or misfit and misshapen?
No matter whether you like to carve or paint…
The first step is finding that porch perfect pumpkin; it's practically a right of passage for the fall season. There's a magical fall feeling seeing the sheer delight of little ones running around, and watching them attempt to pick up pumpkins they couldn't possibly lift!
Find a pumpkin that's perfectly you this fall at these Butler County pumpkin patches and farm markets:
Barn-N-Bunk Farm Market
When you spend the day at Barn-N-Bunk, you feel as if you're stepping back in time. This quaint Farmers Market sits in the heart of Trenton and is full of fall fun. Their fall fest season runs until October 25. Join them every weekend for fall activities and to pick a pumpkin from their great selection.
Garver Family Farm Market
At Garver Family Farm Market, you can pick your pumpkins right off the vine. A well-defined pathway leads autumn adventurers through a pumpkin paradise with a glowing sunflower field in the background. 
Niederman Family Farm
Cinnamon sugar donuts, epic hayrides, and vibrantly orange pumpkins are the perfect October introduction. The Niederman Family Farm knows how to throw a fall fest. Join in on all of the seasonal fun during their fall festival through October 31. Tickets must be reserved in advance for the 2020 season.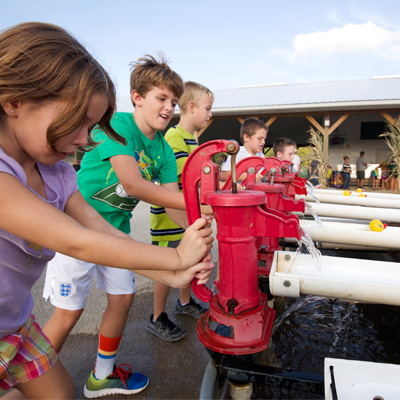 EnterTRAINment Junction
EnterTRAINment junction goes beyond the locomotive and creates an indoor, autumn environment during their annual, Jack-O-Lantern Junction series from September 19 - October 31. Kids can walk through the trick-or-treat maze and get a free mini pumpkin!
Photo: EnterTRAINment Junction
Brown's Family Farm Market
Take a Halloween themed hayride with scarecrows leading the way to the pumpkins. Relax, enjoy the ride and spend as much time as you'd like in the patch.
Photo: Brown's Family Farm Market
Butterfield Farm Market
Find pumpkins of all shapes, sizes and price points. Butterfield also has an excellent selection of Amish goods, apple cider and caramel apples to feed your fall sweet tooth.
Photo: Butterfield Farm Market
Wendel Farms
Add on to your pumpkin excursion with fall farm fun. Visit the petting zoo, corn maze, and farm equipment inspired playgrounds.
Photo: Wendel Farms
Station Road Farm
Fulfill all your fall produce needs. Pick up beautiful mums, pumpkins, gourds and cornstalks at this family owned and operated farm.
Photo: Station Road Farm
Burwinkel Farms
Plump pumpkins greet you at the entrance to the farm. Burwinkel Farms transforms their 100-year-old acreage into a fall festival paradise. Corn mazes, weekend hayrides, a massive sunflower field, fresh seasonal produce, and more await you.
Photo: Burwinkel Farms
McMonigle Farms
A U-pick pumpkin patch is complemented by a 4-acre clueless corn maze, cow train rides, farm animals, and a free straw maze. Find the perfect pumpkin at McMonigle on weekends from September 26- October 31.
Photo: McMonigle Farms
Where will your pumpkin picking adventure take you this autumn?
---