Anyone who hasn't walked around downtown Middletown is in for a surprise – after I parked by a beautiful mural, I walked past an arts center, a beautiful wine shop, and into my destination: Blast Furnace Pizza. Opening in late 2017, Blast Furnace Pizza is the brainchild of Ben Terrill.
"I'm from Middletown, and I work at the steel mill, A.K.," he explained. "I drive up and down here every day to work, exciting things are happening in the downtown area and I just wanted to be a part of that. I wanted to make a family-friendly pizza joint in Middletown." Inspired by the influence that the mill has had on Middletown's past and present, he themed his pizza place around the mighty furnaces that forge steel… and the mighty ovens that forge pizza. "The blast furnace is where the molten steel is made, and I wanted to come up with something that paid homage to Middletown," he said.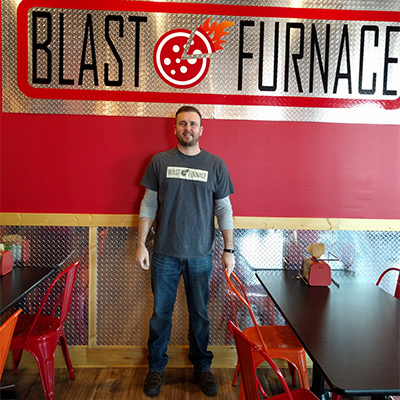 After extensive research on the styles of pizza, he selected Dayton-style, which features a thin crust, small pieces cut into squares, and a slightly sweet tomato sauce. When my half-pepperoni, half-green-pepper pizza arrived, the cheese was melted and browned in spots. I appreciated the dash of Italian herbs on top and I liked that the toppings and cheese go almost all the way to the edge of the crust, with the "middle pieces" completely covered in cheese. The green pepper side was my favorite, clearly fresh and each little piece was piping hot with a thin but sturdy crust.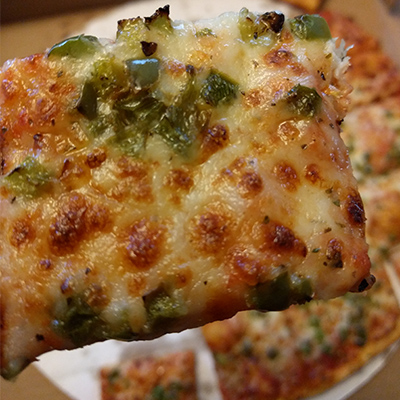 The shop has family friendly touches all around: an arcade game in one corner, a little photo booth where kids can put their faces into a scene and make a goofy grin for the camera. While the tables in the main dining room are mobile and could easily accommodate large groups, there is a specific space available downstairs for special events. The biggest treats are for the kids however: they get plastic hard hats to wear while they visit Blast Furnace, so they can feel like steel workers as they chomp down on their slices of the pie.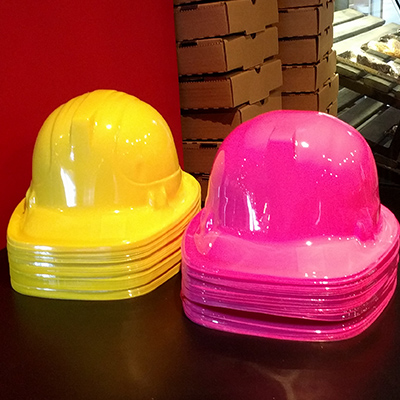 Downtown Middletown now sports everything from a bike shop to an organic soap shop along Central Avenue. Getting a pizza lunch or dinner is only part of the experience, both on a chilly winter day and as the summer festivals come to town again in the coming months.
While the menu itself is simple and focuses on staying fresh and delicious, he'll also be adding a few final items to the menu, including wings and a meatball sub. If the pepperoni pizza I tried is any indication, people will be tipping their hard hats to any future menu additions, as they sample all that Middletown's downtown area is offering to visitors.
Blast Furnace Pizza
1126 Central Avenue
Middletown, OH 45044

---