Road Trip, the Fitton Center's newest exhibition merges the intricate worlds of baseball and art. Baseball, a world where athletic skills are honed, strategy, and the rules of the game are always abided by.  Art – the world whose definition is everchanging, where rules are meant to be broken and self-expression is celebrated. These two worlds that fall on the opposite sides of the spectrum have made a beautiful collision on the Fitton Center's second floor gallery.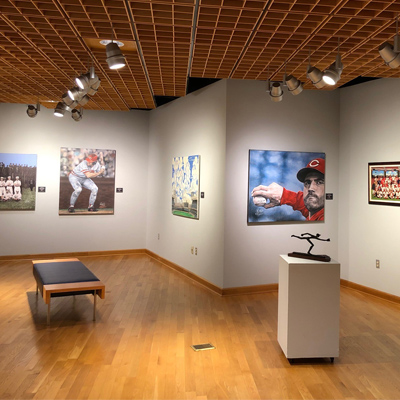 Photo: Fitton Center for Creative Arts
Over 70 pieces from the Cincinnati Reds Hall of Fame & Museum are playing an away game in Hamilton. The show also features incredible work from the team's artistic fans.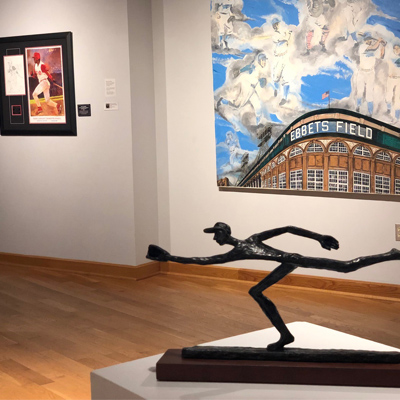 Photo: Fitton Center for Creative Arts
Renowned artists like Chris Felix, Andy Warhol and LeRoy Neiman have their monumental, original works on display. Marveling at the massive sculptures of iconic baseball moments that surround the perimeter of Great American Ballpark are a staple of a Red's game experience. Tom Tsuchiya is the sculptor behind them, and his original workings are part of the Road Trip exhibit.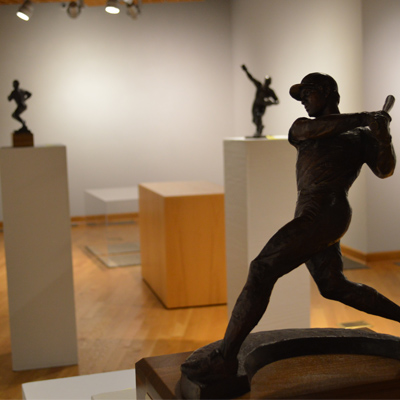 Photo: Fitton Center for Creative Arts
On the first floor, artists from local Hamilton art studio, InsideOut, contributed their own paintings and abstract glass pieces to the series. Alongside them is the exhibit's interactive element, Team Colors. Using bits of colorful fabric, Road Trip viewers can tie together a streamer that then attach it to a plastic ball. After the streamer is created, Road Trip wanderers will head outside with their team and pitch the ball onto the outdoor pergola, leaving a their own mark on this amazing installation.
As you walk around and admire the pieces, you can almost hear the crack of the bat in the ballpark. You can smell the freshly popped popcorn and feel the crunch of salty peanut shells. It transports you to summertime bliss even on the wintriest of days.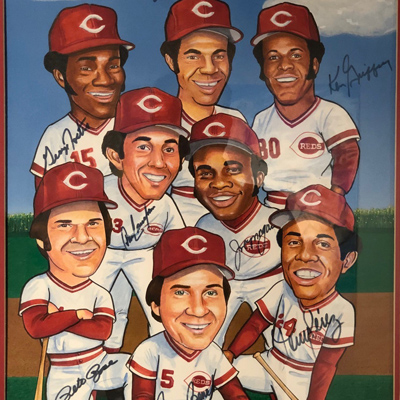 Photo: Fitton Center for Creative Arts
You can see this grand slam of an exhibit until April 5.
Fitton Center for the Creative Arts
101 S. Monument Ave.
Hamilton, Ohio 45011

---