There are certain things that we see during our complex, human experience that stop us in our tracks and make us look at life from a different point of view. I experienced one of those moments while visiting the Telling A People's Story exhibit at the Miami University Art Museum in Oxford. Telling A People's Story is the first major museum exhibit of its kind; it tells a vibrant, visual narrative of the African American experience through the candid lens of children's book illustrations. 
This incredible exhibition encompassed 130 original works by 33 African-American artists, taken from 95 different children's books. The weight and cultural significance of this project was immeasurable. The curator, Jason Shaiman, reviewed and considered more than 600 books and 14,000 illustrations during the development of the exhibition. The artworks took viewers through a chronological timeline of African-American history. They provide authentically gripping depictions of African Origins, Middle Passage, Slavery, Emancipation, Reconstruction, Harlem Renaissance, Segregation, and the Civil Rights Movement. The illustrations are created in a way that conveys important stories through an approachable medium.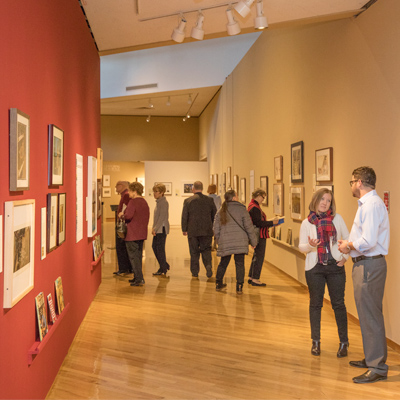 Photo: Miami University Art Museum
The artwork also draws on themes of success, highlighting African-American trailblazers in the fields of music, art, sports, science, politics, and entertainment. Through delicate brush strokes and talented hands, you see the triumphant Jackie Robinson watch as his homerun hit soars into oblivion, the poised Ella Fitzgerald belting songs of soul and resilience to an adoring crowd, and so many more historical figures who paved the way for African-American greatness. 
The book that each image derives from sits on a shelf just below it. Museum goers are encouraged to read the stories that shape these compelling works of art. Putting them into context helps to completely immerse you in the moment and introduces you to the untold stories of American history.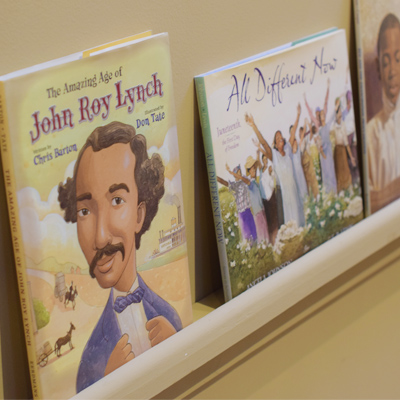 Jason says these African-American children's books are tackling two important perspectives: the creation and validation of positive self-imagery and an introduction into the African-American experience to better understand the cultural, historical, and social make-up of the African-American identity.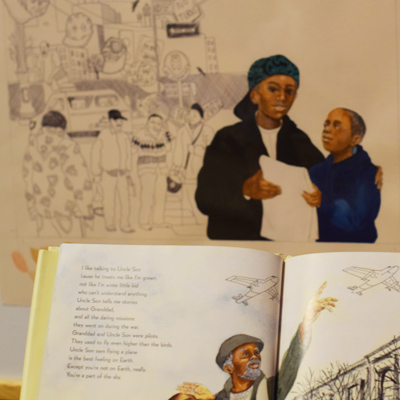 One of the first pieces of art that you see in the exhibit is an illustration from the book Stevie by John Steptoe. It was one of the first African-American children's books and the pictures are alluring and beautiful. Steptoe's legacy came full circle; his son, Javaka wrote and illustrated the children's book, Radiant Child. A winner of the 2017 Coretta Scott King Award. He illustrated his story on scraps of wood found around his neighborhood. His mixed medium work is nothing short of astonishing.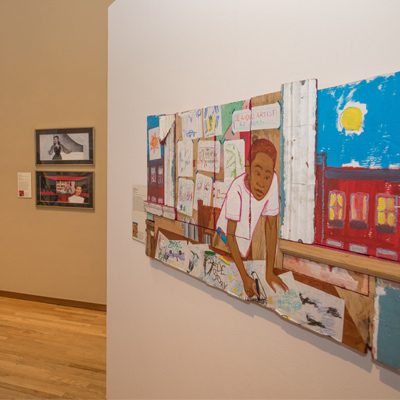 Photo: Miami University Art Museum
I had so many thoughts and ideas buzzing around in my head while walking through this exhibit. I was in awe of the insurmountably talented artists and the history makers they are depicting. I left with a general sense of gratitude for being able to witness something so powerful. I could write about this exhibit all day, but my words will never be enough. Something with this amount of cultural and human significance deserves to be seen, experienced, and not just read about. 
801 South Patterson Avenue 
Oxford, OH 45056

---