There's a certain inexplicable magic to IKEA. Maybe it's the feeling of shopping for new beginnings; the kind that come with starting fresh in a new space. Or the endless decorating possibilities that are so meticulously and perfectly displayed right in front of you. It's easy to spend hours following the defined path that guides you toward interior decorating bliss. There are dozens of different room displays that tell a story with each end table and light fixture. Stories of life excited to be lived inside a space you love.
As of March 12th, IKEA in West Chester has been making decorating dreams come true for ten years! To celebrate, they're hosting a week's worth of family-friendly activities, marked down prices, as well as gift cards, food, and product giveaways from March 10-17.
Recently, I wandered the ever so massive and impressive showroom alongside Shane Montano-Rayford, IKEA's Deputy Store Manager. I was in awe of the organized abundance of furniture and couldn't help but be flooded with ideas for future decorating endeavors. Shane chose ten IKEA essentials that you'll fall in love with.
Top 10 IKEA Must-Haves:
 1. Ektorp Sofa
If you ask me, the sofa is the home's temple. In the book, "The Pillars of a Great Sofa" (written by yours truly), the criteria are as follows: A. Great sofas will support and encourage rest after a long day. B. Become the primary vessel for Netflix binging. C. Provides ample amounts of lounging and cuddle space needed alongside your dog. IKEA's Ektorp Sofa passes with flying colors. This immensely comfortable, stylish, and affordable sofa has been a fan favorite for years. The Ektorp also has a variety of different slip and cushion covers available, allowing shoppers to add their own style and flair to their sofa.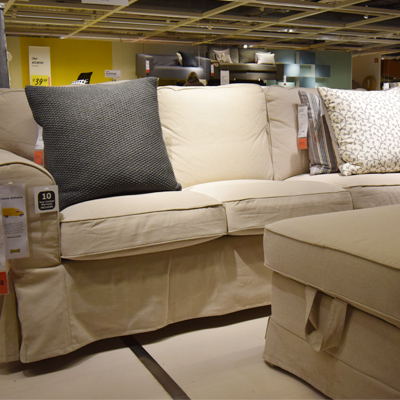 2. Poäng Chair
After your first few moments in a Poäng, you breathe a sigh of relief knowing that you've ended the hunt for the perfect chair. These stylish lounging chairs complete any room with their vibrant color and solid foundation. Try it in leather or change the color of the pad whenever you'd like.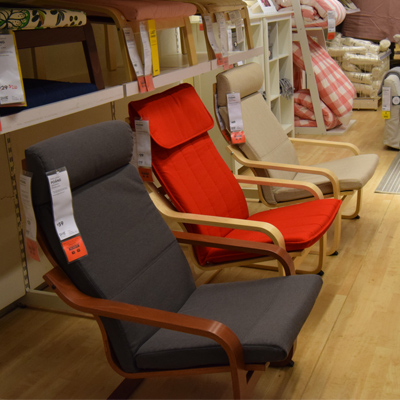 3. Billy Bookcase
The ever so functional Billy Bookcase becomes the focal point of any room it resides in. The Billy shelves are adjustable, providing the space needed for the items you love the most. The books you grew up with, pictures of the person you fell in love with, and the keepsakes you'll never part with all have a place on the Billy Bookcase.
4. Tradfri Smart Lighting
The Tradfri Smart Lighting exudes all kinds of soothing, inviting energy in your home. This smart lighting systems allows you to completely customize the variations and intensities of light in any room you please. Choose from several different kinds of features and modes, and control from an app right from your phone.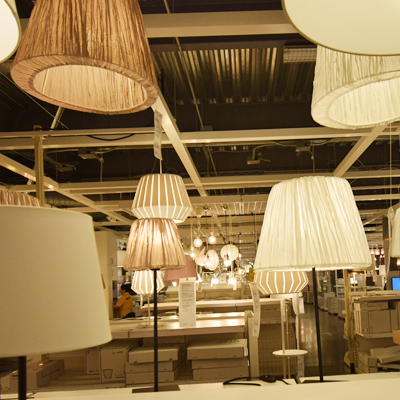 5. Swedish Meatballs
A trip to IKEA would be remiss without a heaping plate of Swedish Meatballs from IKEA's restaurant. This deliciously savory snack has broadened its horizons, now offering both veggie and chicken meatballs in addition to the classic beef. See why these meatballs have become an integral part of the IKEA shopping experience.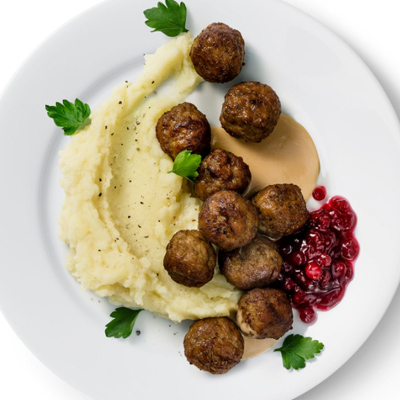 Photo: Twitter @IKEAwestchester
6. Bekant Sit-Stand Desks
The Bekant Sit-Stand Desk ensures you never feel strained while you pour your passions onto paper. With the push of a button, you can lift and lower the Bekant desk to your ideal working height.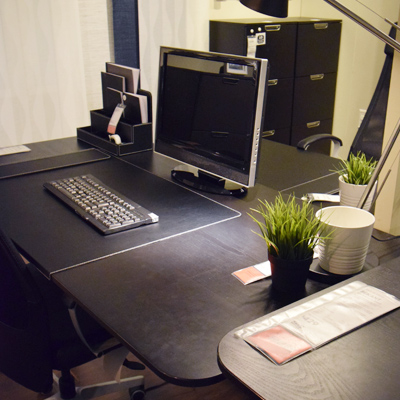 7. Måla Easel
The Måla Easel is a playroom necessity. Choose your canvas based off your favorite medium. The Måla is available in dry erase, chalk, or Måla drawing paper.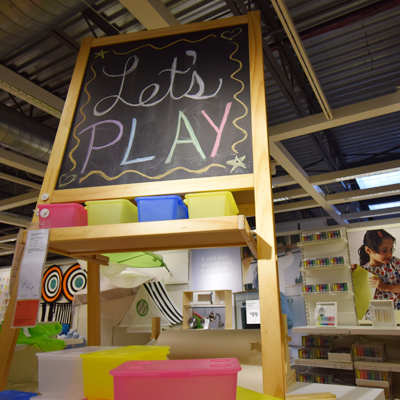 8. Complete Kitchen Set
When you're feeling all kinds of inspired from your beloved Pinterest Boards and HGTV marathons, a perusal around IKEA's complete kitchen sets is your next logical step. You can accomplish an entire kitchen remodel with the help of IKEA. They even have designated kitchen specialists, who show you how to digitally map out and fully envision your new kitchen. Once you have the groundwork in place, check out their stylish and incredibly affordable selection of dinner plates, silverware, pots & pans, and all other kitchen necessities.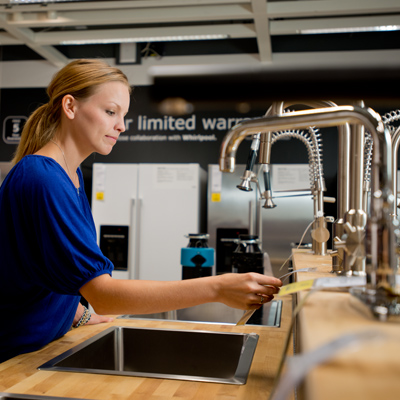 9. Hemnes Dressers
Equal parts sleek and durable, the Hemnes dresser removes the clutter from your wardrobe. With eight spacious drawers, it provides all the room you need for the sentimental t-shirts that you wouldn't dream of parting with.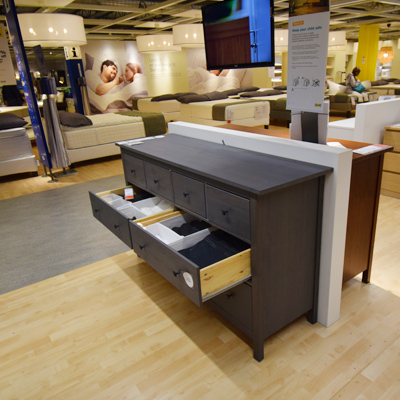 10. Malm Storage Bed
Can we talk about how ridiculously convenient the Malm Storage Bed is? Once you easily lift the lightweight mattress on the slatted base, it reveals an entire bedframe's worth of available storage space. Cover your Malm Bed with gorgeous comforters, duvet covers, sheets, and pillows from IKEA's textiles department.
Find these fab items and hundreds more at ikea west chester. Let the decorating process become something that enlivens you.
9500 IKEA Way
West Chester, Ohio 45069

---