As soon as you step foot into Triple Moon Coffee Company in Middletown, Ohio you know you're experiencing something special. The visit started with being welcomed by a very knowledgeable and friendly barista. After ordering a delicious white mocha with salted caramel per recommendation, I had the opportunity to sit down with owner, Heather Gibson.  We discussed her journey into opening the coffee house with her business partner, Michelle Tice.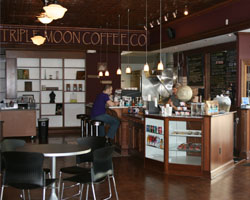 Yes, that's right we said coffee house, not coffee shop. Gibson and Tice had aspirations for Triple Moon to be a community hub and gathering spot, hence the coffee house distinction. The coffee house employs experienced baristas that Heather has worked with over the years in the coffee business. Triple Moon makes two main promises to their guests; consistent coffee no matter the barista and that you'll be served your beverage with a smile.  With a lot of hard work Heather has watched her dream of over 20 years, come to fruition.
The Layout
When designing the space it was a goal of Triple Moon to use as many local businesses as they could in construction. They have a true interest in making an impact on the community.  The coffee house was designed with couples, groups, meetings and families in mind. There are cozy corners for couples, areas to play games for groups and even bean bag chairs to lounge on. There is a lending library available where community members have been bringing in books to share, and borrowing the books is on the honor system. The coffee house offers a private meeting room, which they are currently offering to the community at no charge.  One of the rooms has been designated as a student "pit" study area, which local high school and Cincinnati State Middletown students have been utilizing.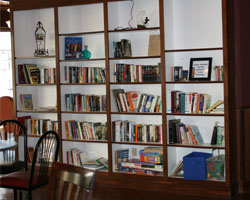 Community Response
Heather has been blown away by the community reaction to Triple Moon. When they opened during the event, First Fridays, they experienced a line out the door for over four hours.  Several local business owners have approached Heather sharing the impact on their stores. They've watched customers coming into their shops with Triple Moon cups, and have been experiencing more business themselves.
The Best Part- Coffee and Food 
Everything is served fresh and homemade in house. Heather uses local produce from farmer's markets for many of their food items. She spent months crafting the recipes on their menu. If you're a fan of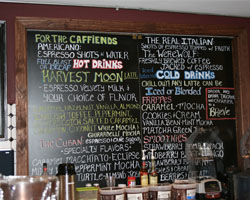 Indian Chai, Triple Moon is a must as they serve a true Indian Chai which people are raving over. Just a few of the fun options on the menu include Harvest Moon Lattes, Mint Mocha Frappe, or a Peaches and Cream Smoothie. Heather's current favorite beverage is a classic Iced Caramel Macchiato.
Pay It Forward
As you've probably noticed Triple Moon has a vested interest in supporting the community of Middletown. Three times a day they randomly "Pay It Forward" with their customers. This gesture means that your coffee is on the house, and the goal is for you to use the money you just saved to do something kind and pay it forward.
Coming Soon
They are working on setting up an outdoor patio area for guests to enjoy this summer with awnings, as well as a drive-thru for convenience.
As their motto goes, Good Vibes, Great Coffee! Make sure to stop in Triple Moon Coffee Company on your next trip to Middletown. Maybe even bring a book to share in the lending library? Welcome to Butler County, Triple Moon Coffee Company!
---