This week one of Butler County's most beloved events make its return. Food Trucks from across the region will converge at the Square @ Union Centre in West Chester, Ohio. The 3rd Annual Union Centre Food Truck Rally will bring over 35 different and unique trucks, so bring a hearty appetite. The full list of participating trucks is below for planning your rally route.
We had the opportunity to go behind the scenes with food trucks Empanadas Aqui and Red Sesame, to see how they got started and what they're looking forward to at this year's rally!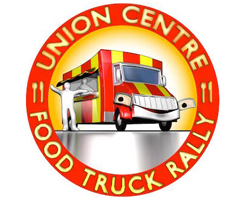 The Details:
Date: August 14, 2015
Time: 11:00A.M. – 10:30P.M.
Where: The Square @ Union Centre – West Chester
What: Incredible flavors from around the world, live bands and fireworks
             Bands: Chuck Evans, 3 Day Rule and DV 8
Q & A with Empanadas Aqui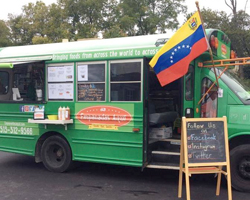 How Empanadas Aqui Got Started:
Empanadas Aqui is a collaboration by family members Patt Fettig, Brett Johnson and Dadni Johnson. The idea to start a food truck stemmed during a family birthday party in the summer of 2013.  They applied for Bad Girl Ventures, a non-profit dedicated to supporting female entrepreneurs, and became a finalist. After completing their program Empanadas Aqui launched in June 2014.
The Menu
When formulating their food truck plan, they knew they wanted to serve empanadas. Dadni is from Caracas, Venezuela, and she had been missing the native food she had eaten daily in Venezeula. This led to the passion of wanting to share and serve empanadas to others. It was hard for Empanadas Aqui to distinguish a favorite menu item, as many are so popular.  We can't wait to try the Bad Girl Empanada which has shredded chicken, roasted onions and peppers and cheese. The Tostones, aka fried plantains, also sound tasty and are a big hit as well. Pat said "I even limit myself to how many to eat in a day because of how good they are."
Food Truck Travels
Pat explained the furthest that they have traveled with Empanadas Aqui is Springfield, Ohio. She said, "we have so many great opportunities in Cincinnati that we don't need to go far with the truck to be part of great events."
Thoughts on the Union Centre Food Truck Rally
The Empanadas Aqui team is really looking forward to the people that they will meet. They explained that, "Even though it is brief it is fun to be around people having a great time eating food, listening to great bands and having fun."
Q & A with Red Sesame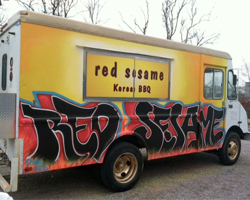 How Red Sesame Got Started:
Red Sesame got its start in late 2012. B.J. Kim of Red Sesame transferred from New York to Cincinnati in 2011 for his job. He felt that Cincinnati was lacking in enough diverse cuisine options. He wanted to contribute to the diversity by combining his love for Korean BBQ and Mexican dishes. When asked what has surprised him about owning a food truck, B.J. responded, "How our customers follow our truck. We see our followers drive up and get in line for food. Awesome to see that."
The Menu
Like Empanadas Aqui, Red Sesame, finds that all of their food truck menu items are popular. B.J. said people have an affinity for the burritos, Korean BBQ tacos and R.S. Mini Quesadillas. Red Sesame spent months crafting their sauces which they have become famous for.
What Red Sesame Wants You to Know
They are dedicated to fresh ingredients and creating the perfect flavor experience. Their sauces have made them one of the most popular food trucks in the Greater Cincinnati area. They said their customer base keeps expanding, because of "the raving reviews of friends and family who have already become hooked."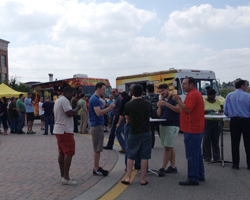 2015 Participating Food Trucks
| | | | |
| --- | --- | --- | --- |
| Bistro de Mohr | Empanadas Aqui | Pit to Plate BBQ | Texas Joe Tex Mex |
| Bone's Burgers | Harvest Mobile Cuisine | Quite Frankly | The Chili Hut |
| Catch-A-Fire Pizza, LLC | Joey Erk Fashion Truck | Red Sesame | The Mobile Cone |
| C'est Cheese | Jus Smokin Hillbilly BBQ | Remi J's BBQ | U Lucky Dawg |
| Cold Stone Creamery | Kaimelsky's | Renegade Street Eats | Waffo |
| Cuban Pete Sandwiches | Kona Ice | Roll with it Café | Wicked Hickory |
| DOJO GELATO | Lyric Food Truck | Sherri's Crab Cakes | 1776 Grill |
| East Coast Eatz | Marty's Waffles | Streetpops | Beach Burger |
| Eclectic Comfort | No Bull BBQ | Sugarsnap Sweet Treats, LLC | Kowalski Hots  |
More Food Truck Rally Information:
Have a great time at the Union Centre Food Truck Rally, and support these fantastic food trucks! We can't wait to see you there!
---