Donut lover? Design lover? A connoisseur of both worlds? We know that you love the Donut Trail as much as we do, so let's see what ideas you've got! We want your help in designing the official 2020 Butler County Donut Trail T-Shirt. If your design is the winner, thousands of donut lovers from around the world will wear your T-Shirt with pride for years to come, plus you'll earn a sweet $200!
How to Enter
Here's what you need to know. We're looking for designs for the back of the shirt only, in a single color. The Butler County Donut Trail logo will be featured on the front of the 2020 design. Please submit all ideas, sketches, or design files to [email protected] by Friday, October 18th. Final designer will be recognized with the official 2020 T-Shirt media release and on the Donut Trail website during 2020.
Inspiration
The Butler County Donut Trail is a sweet trail of locally-owned, mom-and-pop donut shops. Thousands embark on this confection conquest each year, in search of decadent donuts, a unique experience, and an epic T-shirt, that can only be procured by way of a completed Passport.
Learn more about the Butler County Donut Trail.
Here are some past tees for inspiration...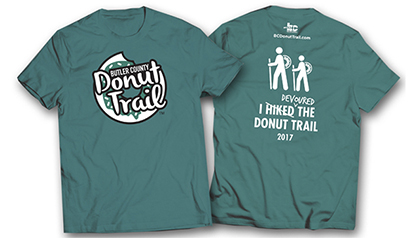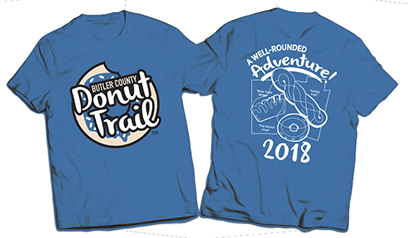 We're excited to see what you come up with. Now get some donuts, and start daydreaming and designing!
*Please note that the winning design will become property of the Butler County Visitors Bureau for printing and distribution.