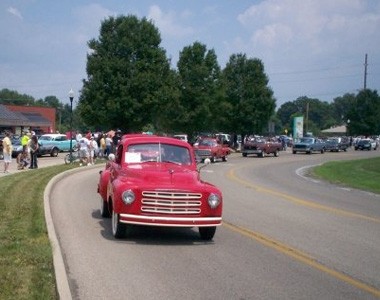 <a href="/listing/butler-county-courthouse/1124" hreflang="en">Butler County Courthouse</a> Various Locations in Fairfield & Hamilton
Venue
Various Locations in Fairfield & Hamilton
Address
10 High Street, Hamilton, OH, United States
Admission
Free
Handicap Accessible Venue
The Hamilton Antique Car Parade hosted by the Butler County Antique and Classic Car Club welcomes the return of the annual parade each summer. Showcasing nearly 300 classic cars, the Antique Car Parade in Hamilton, Ohio has cars for every enthusiast.
Each year, the parade is lead by a different classic and antique automobile. In previous years, the parade leader has been a 1954 Packard Caribbean Convertible. Only 400 Caribbean Convertibles were made in 1954 and there are only an estimated 24 Caribbeans remaining today. Other past lead cars have included a 1929 Chevrolet International Model AC, a 1934 Ford Flathead V8 Coupe, and a fleet of other vintage and classic automobiles.
The Annual Antique Car Parade begins at the Butler County Courthouse in Hamilton, travels to Fairfield Crossing, and returns to the Butler County Courthouse.
The car parade celebrates at the courthouse with live music and antique and classic car awards. If you have an automobile enthusiast in the family, they're sure to love the Hamilton Antique Car Parade. Fall in love with automobile history at the Annual Jerry E. Moore Memorial Antique and Classic Car Parade.
Visit Website for Details ›