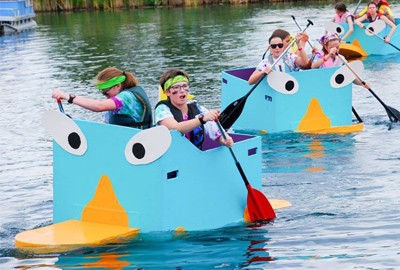 <a href="/listing/voice-america-metropark/782" hreflang="en">Voice of America Metropark</a>
Address
7850 VOA Park Dr, West Chester, OH, USA
Admission
See Event Website for Registration Prices
EVENT CANCELLED FOR 2022
Be prepared to laugh until you cry during Butler County's wackiest summer festival, the Crazy Cardboard Regatta. The regatta is a people powered cardboard boat race around the lake at Voice of America MetroPark.
Watch as these handcrafted boats either sink or swim during the race to the regatta finish line. Your family is sure to get some giggles going while looking across the lake as the cardboard captains attempt to paddle to victory and dry ground. 
The boats are crafted strictly out of cardboard, tape, and glue. No boat is allowed to utilize the helpful buoyancy of wood, Styrofoam, or rubber inflatable devices, and must be made from water-soluble substances. These watercraft creations require a level of engineering aptitude, and more than a bit of luck.
Crazy Cardboard Regatta boats will have the chance to win various themed awards including People's Choice, speed, style, flair, and of course, and award for the best sinking ship!
The regatta will feature live music and a variety of other family friendly activities for the whole family. Come out, root on your favorite boat, and enjoy the wackiest summer festival in Butler County, the Crazy Cardboard Regatta.
Visit Website for Details ›