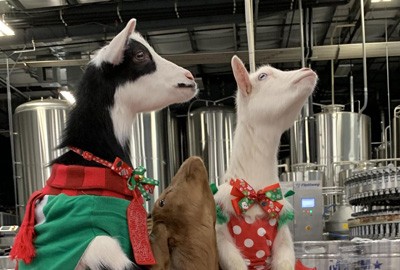 Rivertown Brewery & Barrel House
6550 Hamilton Lebanon Rd.
Address
6550 Hamilton Lebanon Rd., Monroe, OH
Admission
$30 per session
Handicap Accessible Venue
Take the ultimate selfie at YoGoat in Monroe. Hosted at Rivertown Brewery, take a 45 minute yoga class alongside dwarf goats, and they may even climb on your back! Sessions take place at 10AM and 11AM, and each ticket includes admission to the class, 2 after-class Rivertown beers, a pint glass, empty growler, official YoGoat pen, and an entry to win an exclusive YoGoat duffel bag. Each class has limited tickets, so be sure to make your reservation! 
Visit Website for Details ›