Full Throttle Indoor Karting
11725 Commons Drive Springdale OH 45246
Location: Greater Cincinnati Region
Phone: (513) 341-KART
Coming explore the additively fun hobby that is racing! Full Throttle Indoor Karting was built from the ground up by avid motorsports enthusiasts that wanted to bring more great racing to the greater Cincinnati area. Full Throttle provides a fun, competitive, and safe place for you to race. From open racing to corporate team building exercises, we're all about making competitive racing available to everyone!
Amenities & Information
---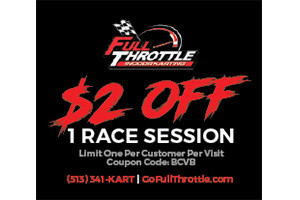 Full Throttle Indoor Karting
Redeemable from March 19, 2018 - March 31, 2019
$2 Off 1 Race Session. Limit 1 Per Customer Per Visit. Coupon Code: BCVB. Offer Expires 3/31/2019.
Print Coupon