Start Skydiving
1711 Run Way Middletown OH 45042
Location: Middletown
Phone: 513-422-JUMP
Experience the feeling of flying like never before at Start Skydiving in Middletown, Ohio! "Breathtaking" has a whole new meaning as you fly like a bird in 30 to 50 seconds of free-fall, anywhere from 10,000 to 13,000 feet above the earth. Capture picturesque views of the area as you descend in canopy flight with the tandem instructor pointing out destination landmarks. Top of the line equipment, highly trained instructors, and brand new facilities allow you to enjoy one of the most amazing experiences of your entire life. Providing some of the best skydiving instruction in the country, all of Start Skydiving's instructors and coaches are officially certified by the United States Parachute Association.
Amenities & Information
---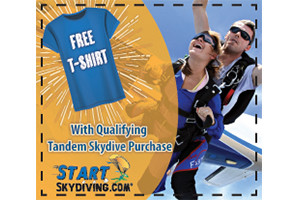 Start Skydiving
Redeemable from March 18, 2019 - December 31, 2019
Free T-shirt with qualifying tandem skydive purchase. To redeem visit StartSkydiving.com or call (513) 422-5867 to book your tandem skydive. Please bring in your coupon on the day of your jump. Coupon Code: TANDEMT. Coupon expires 12/31/2019.
Print Coupon