The Hamilton Antique Car Parade hosted by the Butler County Antique and Classic Car Club welcomes the return of the annual parade each each year. Showcasing nearly 300 classic cars, the Antique Car Parade in Hamilton, Ohio has cars for every enthusiast.
Each year, the parade is lead by a different classic and antique automobile. In the past, the parade leader car was a 1954 Packard Caribbean Convertible. Only 400 Caribbean Convertibles were made in 1954 and there are only an estimated 24 Caribbean's remaining today. Other past lead cars have included a 1929 Chevrolet International Model AC, a 1934 Ford Flathead V8 Coupe, and a fleet of other vintage and classic automobiles.
The Hamilton Antique Car Parade begins in Fairfield where cars will be on exhibit for public viewing. Once the parade begins, it travels in procession to Hamilton where it finishes at the Butler County Courthouse.
The car parade concludes at the courthouse with a musical celebration by the Fort Hamilton Jazz Band and antique and classic car awards. Trophy award categories include the best Ford Model T, T-Bird and Military vehicle, the Oldest Antique car, Best of Show and many more. The parade will honor and recognize nearly 60 vehicles in various categories.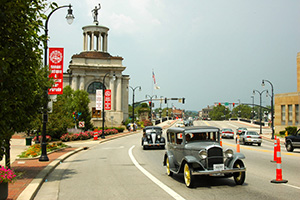 If you have an automobile enthusiast in the family, they're sure to love the Hamilton Antique Car Parade. Fall in love with automobile history at the Annual Jerry E. Moore Memorial Antique and Classic Car Parade.
For more information about upcoming events in The BC, visit our events calendar.
For more information about the Antique Car Parade in Hamilton, Ohio, visit their website at www.antiquecars.org.