Everyone loves strawberries, right? Well, the community of Shandon sure does. They celebrate everything strawberry the second Saturday in June every year during the Old Fashioned Strawberry Festival. This summer celebration is among the most popular summer festivals in Butler County.
The Strawberry Festival features local vendors and artists, an antique tractor show, fresh refreshments and produce, traditional live Welsh harp music and live organ music.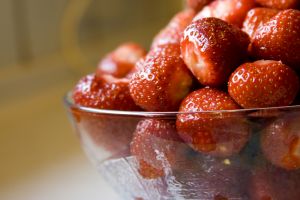 Explore Shandon's diverse antique heritage by visiting the local shops in the historic houses that will feature antiques, country crafts, original art, pottery and furniture.
The Community House, the site of the 1825 Welsh Church, houses a picnic style supper with a menu full of fresh strawberries, homemade shortcakes and delicious ice cream. Other culinary tastings typically include Shandon's traditional hot pressed chicken and savory pulled pork sandwiches, coleslaw, homemade pies and more.
To top off the strawberry celebration, the beautiful and historic Old Welsh Cemetery next to the Community House is open for viewing and exploration.
Best of all, the entire annual Old Fashioned Strawberry Festival is free and open to the public!
2019 Festival Information
When: Saturday, June 8, 2019
Location: Downtown Shandon - State Route 126, 4 miles west of Ross
Admission: FREE
Parking: FREE
Phone: 513-738-4180 or 513-738-0491
Dinner will be served by the Congregational Church, from noon to 5:00 p.m. at the Community House(site of the 1825 Welsh church). Home-made strawberry shortcake and ice cream will be available from10:00 a.m. at the Community House. Food and refreshments will be available at the old Fire Housefrom 9 am to 3 pm. Times have been extended this year to suit the vendors and the visitors.
Outdoor vendors and artists will have their booths open from 10:00 a.m. in the village and in the field bythe Old Fire House - Vendor spots are still available. The local shops, in historic houses, will be open allday for antiques, country crafts, original art, pottery and furniture.
The 11th Annual Antique Tractor show exhibits will be behind the Old Fire House with a parade plannedduring the day.
Other attractions include organ music in the community house and an opportunity to explore the oldWelsh cemetery next to the community house. A quarter scale model train may be located on CherryStreet – weather permitting
The Morgan Township Historical Society Museum, located just 4 miles West in Okeana at 6464 OkeanaDrewersburg Road, will also be open from noon to 4:00 p.m.