Light Up Middletown at Smith Park lets you tour a sparkling, lighted fantasyland from the day after Thanksgiving through New Year's Eve. This spectacular holiday light display features a variety of unique and fun holiday themed light figures like Santa's workshop, a penguin village and even a floating sea serpent out on the park's fishing lake.
The thousands of twinkling lights that expand over the 100-acre park leave you in awe and the balloon glow is the cherry on top at Light Up Middletown! One night during the light display, organizers hold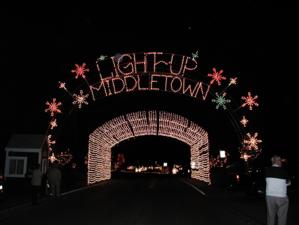 a hot air balloon glow, where balloon pilots inflate and light their balloons so they glow beautifully against the stunning light display.
Each year, event organizers add a little something new to the display for the estimated 65,000+ visitors of the Light Up Middletown event. In the past, a beaver cutting down a tree and herd of elegant deer joined the slew of other light displays from previous years.
As part of an on-going effort to go "green", the "Light Up Grandpa Gang", the beloved volunteers who dedicate hundreds of hours preparing the display, changed over 22,000 light bulbs in 16 of over 60 displays to energy saving LED bulbs last year.
Admission to Light Up Middletown is by donation and the display is easily accessible for motor coaches and group tours. Proceeds from the event benefit the City of Middletown Parks & Recreation department for much needed park improvements.
For more information about Light Up Middletown, visit www.lightupmiddletown.org.
For more information about upcoming events in Butler County, visit our events calendar.