Don't let date night (or day) become overdue. Be the ideal significant other and plan a surprise date night for your one and only. A date in Butler County, Ohio will score you brownie points, guaranteed fun and everlasting memories. We've packaged up ideas for dates, but you can claim them as your own - we won't tell anyone!
Go All Out Artsy
The first stop on our artsy date adventure will take you to Pyramid Hill Sculpture Park & Museum in Hamilton, Ohio. Well, first official stop that is. On the way to Pyramid Hill you'll want to pit stop at True West Coffee's drive-thru and caffeine up. This coffee shop is known for their flavor combinations. Black Sheep, Turtle Blanco or Pot o' Gold for the road?  Okay, back to Pyramid Hill we go…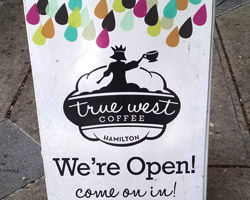 Pyramid Hill is an outdoor museum with meadows, forests, gardens and monumental pieces of sculpture. A date at Pyramid Hill isn't complete without visiting the Ancient Sculpture Museum. The Museum houses a collection of Greek, Roman, Etruscan and Egyptian sculptures.
From Pyramid Hill you'll make your way about 5 minutes down the road to the Fitton Center for Creative Arts where you can expect the unexpected. Even the restrooms are works of art, seriously – check them out. The Fitton Center has art exhibitions, theatre performances, workshops, concerts and LOTS more. Take a look at their events calendar to see what's coming up at the Fitton Center.
Next on the artsy agenda we make our way to Middletown, Ohio. The Pendleton Arts Center is chock-full of talent. Artist studios adorn the space, and each artist offers a unique perspective. The first Friday and Saturday of each month all studios are open (5-9PM on Friday and 11AM-3PM on Saturday) to meet artists, enjoy food, art and music.
Look across the street and you'll see your next destination, BeauVerre Riordan Stained Glass Studios. This newly restored turn of the century building is the oldest documented continuously operating stained glass studio in the United States.  Marvel at the beautiful works of stained glass, and watch as the sun pours through, casting a host of radiant colors. It's truly a sight to be seen.
A Feast for Foodies
This next round of date ideas is perfect for an enjoyable day out treating your significant other…or your stomach, whichever you prefer! All we know is you need to arrive hungry for this food fueled date.
This date begins with donuts. Milton's Donuts has been a staple in Middletown for over 50 years. There's a large variety of flavors including Oreo covered cream filled, but don't miss out on grabbing a simple glazed. Your taste buds will thank you.
Next up is a food lover's paradise. Jungle Jim's International Market in Fairfield, Ohio has 200,000 square feet of shopping space with over 150,000 products.  The International department boasts an impressive 50,000 products from over 70 countries.  Around each corner you'll find quirky displays and décor. Throughout the year Jungle Jim's hosts JungleFests including Weekend of Fire, International Beer Fest, Shake It Up and more. Eat your way around the world at Jungle Jim's in Fairfield.
This last foodie date night activity is hands-on. Put on your apron and learn new recipes and techniques at The Learning Kitchen in West Chester, Ohio. Discover your inner chef during one of their cooking classes. You'll reap the benefits of your hard work when you sit down and taste your cooking creations. Sign up for Modern Comfort Food, Homemade Pasta or Indian Curries class today!
Outdoor Enthusiasts 
Experience a date in the great outdoors. Hueston Woods State Park is just five miles from Miami University in Oxford. This date starts with a romantic picnic in the park, where you can get away from it all. Pack your hiking boots to explore the 200-acre forest, breathtaking views and wildlife. In the evening grab a seat at the bonfire pit tables behind the lodge (after grabbing a S'mores kit inside)! Just imagine the scene now… The great outdoors, sitting next to a fire with your sweetie and roasting marshmallows – an outdoors dream date come true! Book a room at the lodge, a cottage or a campsite to spend more time discovering everything Hueston Woods has to offer. 
No matter whether you want to take in the arts, feast away or escape in the great outdoors Butler County, Ohio is the date destination for you.  
---