Butler County is home to amazing art galleries, talented performance troupes, creative and hands on art experiences and art festivals in Ohio. Next time you're in The BC, explore Butler County's inspiring art community. Be sure to watch the videos for your next art adventure!
Pyramid Hill Sculpture Park & Museum
Visit the area's only outdoor sculpture park at Pyramid Hill Sculpture Park & Museum in Hamilton. This 265-acre outdoor art gallery combines the beauty of dynamic sculpture with sprawling meadows and woodlands. Along with the vibrant sculpture art, lies the park's Ancient Sculpture Museum, displaying historic sculptures and artifacts from the Roman, Egyptian, Greek and Etruscan cultures. Each year in the fall Pyramid Hill hosts one of Ohio's best art shows.
BeauVerre Riordan Stained Glass Studio
Tour the nation's oldest continually operated stained glass studio located in downtown Middletown. BeauVerre Riordan Stained Glass Studio offers guests tours of the facility where you can learn about the history of stained glass while live artists craft masterpieces of stunning stained glass. Guests can also participate in one of the many classes provided by BeauVerre.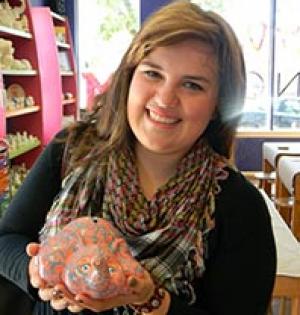 You're Fired! Pottery Studio
Keep it hands on at You're Fired! Oxford's paint your own pottery studio. At You're Fired! guests chose a piece of pottery from a wide section including mugs, frames, dinnerware, and teapots, grab a paintbrush and start creating their very own personalize piece of pottery.