Fishing aficionados and recreational fishermen Butler County has a variety of fishing for every skillset. From a relaxing afternoon on the lake to competitive fishing tournaments, options await you. Cast your line, it's fishing time!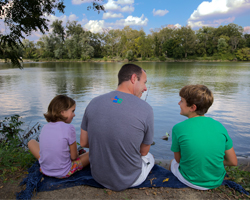 Marsh Park Fishing Lake
Located in Fairfield, Ohio Marsh Park Fishing Lake is a natural spring fed lake with over 4,000 feet of fishing shoreline. Open seasonally from April through October each year. The lake is stocked throughout the season and is home to Carp, Catfish, Bass, Bluegill, Northern Pike, Perch, Trout and Walleye. Forget to bring bait with you? No problem! The Bait House carries fresh live bait and basic tackle needs. Once hunger strikes you'll be able to pick up beverages, snacks and hot sandwiches on-site. Check their event calendar, as special events and overnight fishing trips will be held throughout the season. A fishing trip at night is a whole new experience!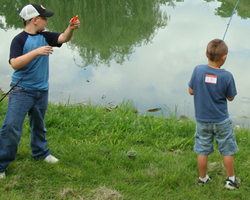 Lake Butler
A fully stocked pay lake located in West Chester, Ohio.  You can up the ante by fishing at Lake Butler, as they have jackpots on Catfish and Carp. Lake Butler has an on-site restaurant for your food and beverage needs. While you're not allowed to bring alcohol to the property, beer may be purchased in the bait shop and restaurant. This is a great place for groups as they have multiple shelters around the lake for relaxing and spending time.  Every Friday and Saturday evening you can enter in a tournament beginning at 7:00p.m. The top three Catfish will split the pot!
Hueston Woods State Park
A beautiful state park located near Oxford, Ohio. The setting makes for a comfortable retreat offering modern amenities. Acton Lake is where the fishing action takes place at Hueston Woods. The lake has a population of Largemouth Bass, Crappie, Catfish and Bluegill.  The marina area offers a snack bar, bait shop and there's boats available to rent for a day cruising the lake.
Rentschler Forest MetroPark
This 400 acre park is located in Fairfield, Ohio. Rentschler Forest has roughly a half-mile of frontage along the Great Miami River. The Line Hill Pond is a great place to set up for a day of fishing and a picnic.  If you decide to take a break from fishing make sure to explore the prehistoric Indian earthwork site, Line Hill Mound, and hike the miles of trails and woodlands.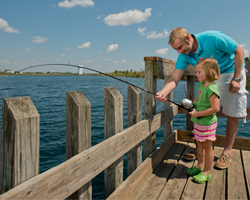 Wetlands Park
This 42 acre park is right off State Route 129 in Liberty Township, Ohio.  This park is an oasis for nature lovers and outdoor enthusiasts. Wetlands Park has four unique ponds that are home to a variety of habitats for wildlife. It's easy to get around and see the natural beauty with the paved trails lining the park. Bike, hike, bird watch, fish and have a great time!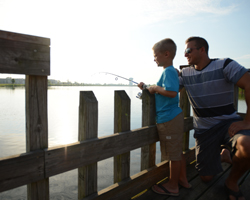 Voice of America MetroPark
Voice of America MetroPark also known as VOA, is located in West Chester, Ohio. This park is 435 acres in size and has a 35 acre stocked lake.  You can easily find a place to fish with the scenic paved trail that wraps its way around the lake. Within the lodge area you'll find The Wheel House, a bait and tackle shop, open seasonally. After a day full of successful fishing, have a seat in the gazebo and watch the sunset over the lake.  
Grab a group of your buddies or make it a family trip, either way angling time on the lake makes for a great getaway! Start planning today with a Free Butler County Visitors Guide.
---