Brews, board games, and even cold brew coffee on tap! Get acquainted with FigLeaf Brewing Company. Have a seat at the handmade bar crafted from reclaimed 1800s barn wood, or watch the brewing process and enjoy your drink from a stool overlooking the production area.
In addition to 20 beers on tap, FigLeaf also serves non-alcoholic beverages! Try a delicious homemade soda, or a nitro cold brew coffee.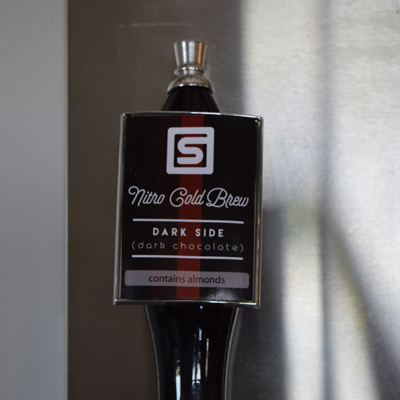 Core Four
Not sure where to start? Order up the Core Four!
Basmati Cream Ale
Pride of Cin-Day English Pale Ale
Ponderous Porter
ISO-trope IPA
Thankfully, FigLeaf made it easier to decide which beers to try by crafting a starter flight.
 
Games Galore
Turn your visit into game night, and challenge your friends! Choose from a collection of games such as Apples to Apples, Jenga, even tabletop Foosball.
 
Let's Eat
Getting hungry? FigLeaf invites caterers and food trucks to serve delicious dishes. Visiting chefs have been known to include the flavors of FigLeaf in their menus. These limited time offerings bring the brews to your tastebuds in a new and unexpected way. Keep an eye out for beer battered ISO-Trope Fries, they were a personal favorite.
Looking for something to snack on? I highly recommend trying a bag of the Purrfectly Popped Popcorn. Be adventurous and try the bourbon caramel or blue cheese and buffalo.
 
Here come the cans
You're in luck! FigLeaf Brewing Company is now canning their Basmati Cream Ale and ISO-Trope IPA. Now when you fall in love with FigLeaf, you can easily grab a six pack as a souvenir to share (or not). The Basmati Cream Ale pairs well with an Indian dish.
Photo: FigLeaf Brewing Company 
This brewery is definitely a summer hot spot. Visit FigLeaf Brewing Company and relax on the patio with a cold glass in your hand, and good friends by your side.
Catch up on what FigLeaf is doing at www.figleafbrewing.com, or grab a drink at 3387 Cincinnati-Dayton Rd in Middletown.

---