When the wind begins to bluster and the snow starts to fall, unwinding with a spirited holiday cocktail can easily soothe the soul. Butler County bartenders are whipping up some beyond delicious wintery mixes for your sipping pleasure. Classic Hot Toddy's and more adventurous aromatic endeavors will fill up your cups of cheer.

Roast & Toast
The Roast & Toast from Cozy's Cafe & Pub combines soulful bourbon, Creme Brulee liqueur, and frothy nitro brew coffee for a decadent mixture sure to get you in the holiday spirit. It's topped a fluffy Marshmallow that's toasted for you right on the spot. Gather around the fire pit in their enclosed patio and let the storytelling ensue.

Photo: Cozy's Cafe & Pub
Hot Toddy
This magical elixir is a winter staple. Bourbon Kitchen's cozy atmosphere inspires good conversation over classic wintery mixes.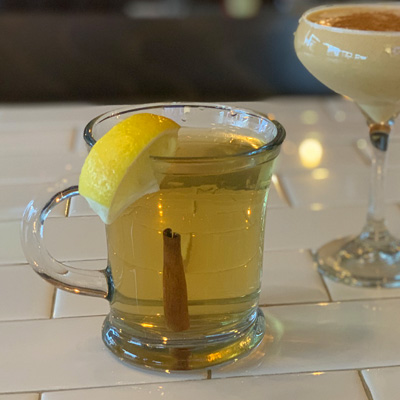 Mulled Cider Martini
Sip straight up with a twist on this spiced cider Martini at West Central Wine.
Photo: Instagram @westcentralwine
Winter Night
Fill your cup of cheer with Jag's Winter Night; an expertly crafted mix of Avion Espresso and Baileys.
Pumpkin Spice Martini
Everything you love about the quintessential latte, but with a touch of Bourbon Cream, Butterscotch Schnapps, and Stoli Vanilla. Find it at Bourbon's Kitchen!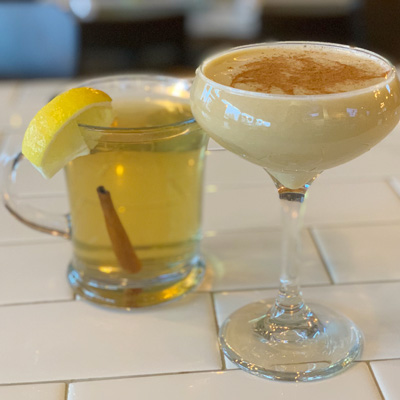 Mocha Delight
Jag's Mocha Delight is a boozy spin on hot cocoa. Rich Godiva White Chocolate, Baileys, and Dark Crème De Cocoa will warm your hands and soul. 
Happy sipping!

---