When the wind begins to bluster and the snow starts to fall, unwind with a spirited holiday cocktail.
 Butler County bartenders are whipping up some beyond delicious wintery mixes for your sipping pleasure. Classic favorites and more adventurous endeavors are here to fill up your cups of cheer.
Blushing Giggle Water
Photo Credit : Jag's Steak & Seafood
This cocktail at Jag's Steak & Seafood includes your choice of dry or sparkling wine, lillet rouge, and fresh strawberries. It's light, refreshing and full of cheer! Want to go in a different direction? Try Jag's Smoked Old Fashioned. 
Get Frosty
Photo Credit : The Frost Factory, Liberty Center
Holiday flavors are finally back at The Frost Factory. Their seasonal menu includes a wide selection of holiday cocktails— both hot and cold— and new winter flavors for their build-your-own boozy slushie bar... there's a flavor for everybody! 
Cinnamon Mezcal Margarita
Photo Credit : The Swire Inn
Who said margaritas are only for the summer? This seasonal margarita at The Swire Inn features Don Julio Tequila Anejo and is topped off with a fresh cinnamon stick. It's a unique and delicious holiday combo. 
Roast & Toast

Photo Credit : Cozy's Cafe & Pub
The Roast & Toast from Cozy's Cafe & Pub combines soulful bourbon, Creme Brulee liqueur, and frothy nitro brew coffee for a decadent mixture sure to get you in the holiday spirit. It's topped a fluffy Marshmallow that's toasted for you right on the spot. Gather around the fire pit in their enclosed patio and let the storytelling ensue.
Classic Hot Toddy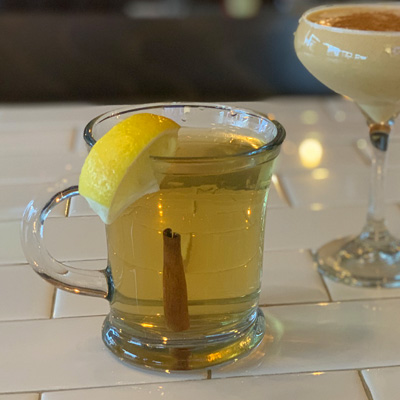 This magical elixir is a winter staple. Bourbon's Kitchen offers over 150 different bourbons and a large selection of handcrafted cocktails. Make sure to check out their other winter cocktails too— the Warm & Cozy, Christmas Candy, and Smoked Old Fashioned.
Fancy a Fizz 
Photo Credit : Tano Bistro Hamilton
A seasonal favorite, this handcrafted cocktail from Tano Bistro features house-infused earl grey gin, apple, sage, canton, egg white, lillet blanc, lemon and honey! It's a cool and energizing sipper, and pairs perfectly with any Tano's delicious appetizers.
Apple Jax
Photo Credit : Gaslight Brewhouse
Not only does Gaslight Brewhouse offer over 30 draft beers on tap and a wide selection of local craft beers, but they also offer a variety of speciality cocktails. This cinnamon-apple seasonal sipper is a must try!
Happy Sipping!
---