This holiday season as the sky turns dark, switches are flipped and the magic of millions of lights twinkle to life. 
Butler County, Ohio is home to award-winning light displays with BIG surprises. Plan a getaway of lights this winter that the whole family will enjoy.
JOURNEY BOREALIS
Pyramid Hill Sculpture Park turns into a magical winter wonderland right before your eyes.  Bring your family to this award-winning 2-mile drive-thru light display this holiday season. Over 1,000,000 sparkling lights glow amongst the monumental sculptures that are all created by both regional and national artists from everywhere!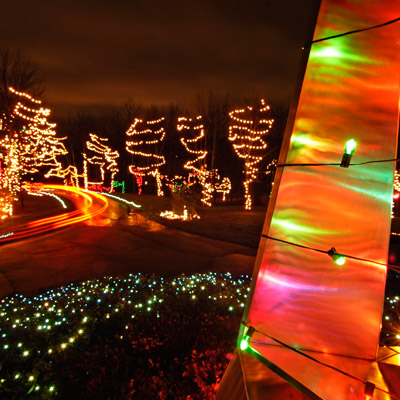 Event Details:
When: November 19, 2021 - January 2, 2022
Monday - Thursday, 6PM - 9PM
Friday - Sunday, 6PM - 10PM
Where: Pyramid Hill Sculpture Park & Museum in Hamilton
Admission: Monday - Thursday, $20.00 per carload
Friday - Sunday, $25.00 per carload
Pyramid Hill members - $15.00 per carload
HOLLY JOLLY HAMILTON
Embrace the holiday season in downtown Hamilton with the Holly Jolly Hamilton events! Hamilton has put together a grand schedule of holiday events throughout November and December. There's a lot too look forward to all season long for kids and adults— from Reindeer Games to at home activity kits, Santa sightings to holiday lights, and all kinds of festive fun in between. Check out the link below for the full schedule of Holly Jolly events. 
Event Details:
When: November 5 - December 31, 2020
Admission: Free
Where: All throughout Hamilton 
travelbutlercounty.com/blog/post/holly-jolly-hamilton 
LIGHT UP MIDDLETOWN
Celebrating 21 years is the iconic Light Up Middletown! Your journey through Light Up Middletown begins with a tunnel of lights. This driving tour fantasyland has an abundance of themed areas. You'll come across a floating sea serpent in the lake, Santa's workshop and sleigh, a penguin village and more. Deer leap over the road and there are surprises around each turn. Light Up Middletown's mission is to raise funds for improvement on Middletown City Parks and to create a beautiful holiday event that everybody can enjoy!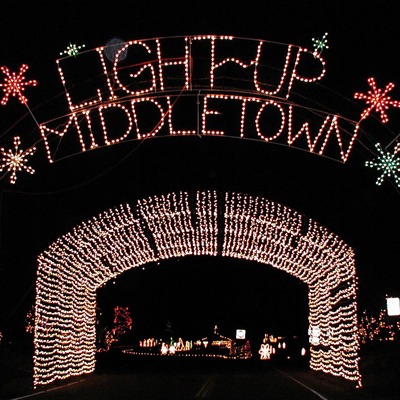 Event Details:
When: November 25 - December 31, 2021
6PM - 10PM
Admission: By cash donation – You set the price
Where: Smith Park in Middletown
FAIRFIELD PARADE OF LIGHTS
Fairfield is proud to welcome you to celebrate the holiday season with the second year of Fairfield Parade of Lights! This will be a drive-thru parade! This drive-thru parade will celebrate the community and all of the local businesses! The illuminated floats will stage at Harbin Park so come on out for a great time!
Photo Credit : City of Fairfield, Ohio 
Event Details:
When: November 27, 2021
4PM - 7PM
Admission: Free
Where: Village Green Park in Fairfield
CHRISTMAS GLOW AT LAND OF ILLUSION
The popular haunted house and scream park is taking a break from the spookier side and showing off their holiday cheer this season with a Christmas Glow and Christmas Village. Drive through this beautiful 2-mile long holiday light display featuring over 3.8 million lights and spot amazing landmarks from across the world from the comfort of your car. Visit Big Ben, the Taj Mahal, the Statue of Liberty and more! When you're done traveling the world, head to the Christmas Village and warm up by the fire pit.
Photo Credit :  Land of Illusion
Event Details:
When: November 24 - December 30, 2021
6PM - 10PM
Closed on November 29-30, December 1 and Christmas Day
Admission: $7.00
Where: Land of Illusion Haunted Scream Park
https://www.landofillusion.com/glow/
OXFORD HOLIDAY FESTIVAL
Twinkle lights will soon be adorning the trees lining either side of High Sreet, which can only mean one thing: the holiday season is upon us and winter is around the corner in Oxford, Ohio!
Event Details:
When: December 4, 2021
9AM - 8:30PM
Where: Oxford Community Arts Center, Uptown Parks Oxford
https://www.enjoyoxford.org/article-archive/oxford-ohio-holiday-festival/
For a full list of holiday themed events visit our Events Calendar.
Millions of magnificent lights that can all be experienced in just one destination. Ready to visit Butler County Ohio's award-winning holiday light displays?
---