Butler County is celebrating a big occasion this week. Jungle Jim's International Market is turning 40! We wanted to take a look back at the evolution of Jungle Jim's, and tell you how to get in on the celebration during this 40-year extravaganza.
How James Bonaminio Built Jungle Jim's
Jungle Jim, James Bonaminio, started running his own businesses and earning money by the age of 6. Everything from washing cars, to selling purses and running a produce stand in various locations throughout Butler County.  This produce stand let to the subsequent opening of Jungle Jim's International Market.
After years of hard work and continuously building on his business, land was purchased in 1975, and the 4,200 sq. ft. market opened in Fairfield, Ohio.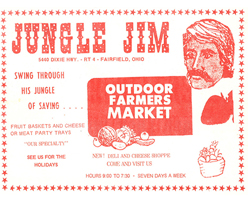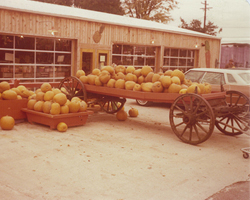 Jungle Jim's Keeps on Growing
The Jungle Jim's we all know and love has continually expanded and evolved over the years. In 1982 the market expanded 15,000 sq. ft. to add groceries and more. The animal pond that's an iconic part of the Jungle Jim's landscape, was added in 1983. In 1989 a 45,000 sq. ft. expansion paved the way to include specialty foods. Keeping the growth and expansion alive, in 1993 Jungle Jim's saw its largest expansion of 135,000 sq. ft. The most recent addition to the Fairfield store came in 2001, when 85,000 sq. ft. added the monorail and Oscar Event Center.
People from all over travel to Jungle Jim's for a truly unique shopping experience, and items that they'd struggle to find anywhere else.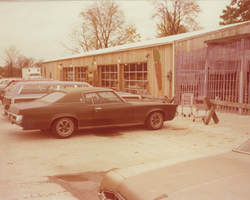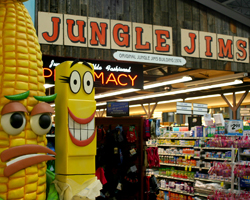 Jungle Jim's International Market Today
Seen by many as not just a grocery store, but a destination. Jungle Jim's is over 200,000 sq. ft. of shopping space with more than 150,000 products. Jungle Jim's has a large international department holding over 50,000 products from more than 70 countries. In the beer and wine department you'll find an extensive selection of 15,000 labels of wine, and over 4,000 different beers.
The 40th Celebration
Activities Each Day of the Celebration
From August 17th to August 22nd you can join in on this weeklong celebration. Every morning there will be birthday cookies in the bakery. Every afternoon you can get your face painted. Food trucks will make special stops at Jungle Jim's throughout the week. Pick up a commemorative glass and taste a new brew on pint nights. With over 130 demos, free balloons and raffles and giveaways, this is an event that you won't want to miss.
Special Events During the 40th
Stilt walkers, mimes and caricatures will bring some circus style fun to Jungle Jim's on Monday afternoon. You can collect a free bobblehead on Tuesday all day while supplies last, so get there early! On Wednesday have a piece of birthday cake at the cake cutting at 1:00P.M. Want an autograph? Stop by on Thursday at 1:30P.M. and get a Jungle T-Shirt signed. Cap off the weeklong celebration with the Shake It Up cocktail festival on Saturday, followed by a fireworks display by Rozzi's.
The Full Extravaganza Schedule
If this will be your first trip to Jungle Jim's International Market, we recommend a stop at the market's "port-o-lets," you're in for a surprise!
Happy 40th Jungle Jim's International Market!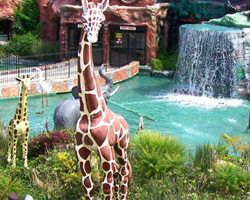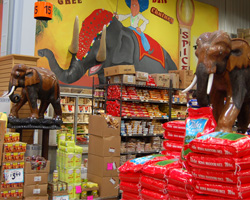 ---