When you get a craving for bakery goodies, nothing really hits the sweet spot like a fresh, flavorful donut. Kelly's Bakery in Hamilton are newer kids on the bakery block, but they've taken Hamilton by a sugary sweet storm. Owner Diana, and her daughter Kelly were kind enough to sit down with us and tell us how Kelly's came to be. Yes, we met the elusive Kelly everyone is looking for!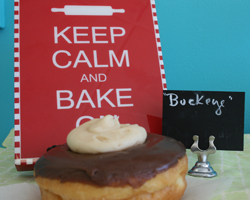 Kelly's Gets Creative
As soon as you walk in the door of Kelly's Bakery, you can't help but feel cheerful. Kelly's favorite color, teal, adorns the walls. Your eyes are immediately drawn to the large bakery cases packed with donut variety. Kelly's Bakery gets creative with their donuts, always pushing the envelope with something new. Don't be surprised to see S'mores, Buckeye or even Birthday donuts. If you're more of a classic glazed person don't worry those are available too.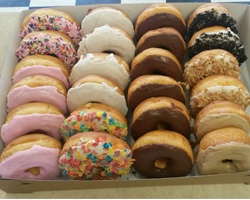 So, Who is Kelly?
Many people come in inquiring about Kelly. "Who is Kelly?" "What does she look like?" "Are you Kelly?" People often think Diana is Kelly.  Kelly is most often found in the bakery kitchen, behind the scenes, baking away! A few people have figured out who Kelly is, and she's been approached while out and about in Hamilton.
Baking Background and Location Selection
Kelly got her start baking at her aunt's donut shop. Ever heard of Donut Spot in Fairfield? Kelly worked at Donut Spot for 3 years and that's where she learned how to make donuts. About 2 ½ years ago Diana and Kelly started contemplating opening their own bakery. They selected their space in Hamilton because they loved the location, and other local businesses were very supportive. When planning the space for the bakery's kitchen they utilized each and every inch, describing it as, "a packed powerhouse for baking." Did you know baking can be quite a physical job? Diana and Kelly are constantly lifting 50lb sacks of ingredients!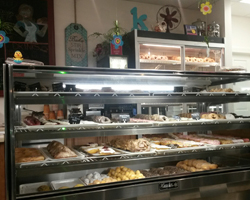 Favorite Flavors
When asked about their favorite bakery items it wasn't an easy choice. Diana loves the glazed yeast donuts, apple fritters and the chocolate cake donut with cherry frosting on top. Kelly is a fan of the glazed yeast donut with blueberry maple frosting sprinkled with bacon on top. It may sound a little odd at first, but the combination works and is delicious! Go ahead, give your taste buds an adventure!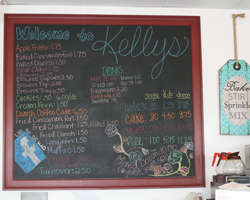 Special Occasions
"We love how special it is to be part of lots of people's celebrations and parties." It was easy to tell how genuinely appreciative and excited Diana and Kelly are about their ability to impact and celebrate special occasions with their bakery customers. They have made gender reveal donuts and spelled words with donuts such as "Happy Birthday!" Diana and Kelly love the saying, "no limits, and that we are always evolving." Donut wedding anyone?
Make sure a stop at Kelly's Bakery is part of your next Butler County adventure for a donut (or dozen)! While in Hamilton listen for a lady who loves talking about donuts, you may have just found the elusive, Kelly of Kelly's Bakery!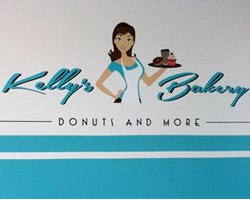 ---