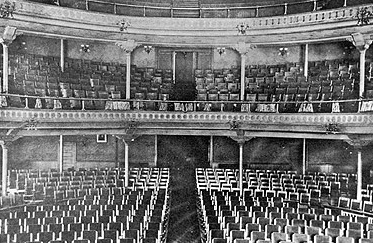 Sorg Opera House
57 South Main Street Middletown OH 45044
Location: Middletown
Phone:
The Sorg Opera House, located in Downtown Middletown, debuted its first opera, "The Little Tycoon", in 1891. Several famous vaudeville performers including Marie Dressler, Sophie Tucker, and Will Rogers along with troupes of actors, singers, dancers and even opera companies, from all over New York and Chicago, put on shows five nights a week on the opera house's grand stage. The Sorg Opera House entertained audiences with operas and performing productions for years, and in 1901, Sorg began showing early forms of moving picture shows. By the end of the 1920's, live shows were discontinued at the opera house and Sorg became a full-time movie theater and became known as the "Colonial" in 1947. The facility operated as a movie theater until the late 1970's. In the 1980's a community group, Friends of the Sorg, successfully brought back live performances to the opera house. In 2007 the property was sold and in 2010 a major water main break caused the property to close for good. Recently, the old opera house, now under the control of SORG (Sorg Opera Revitalization Group), has undergone much needed renovations and is well on its way to returning to it's old grandeur by welcoming performing groups, cultural events and more.
Amenities & Information
---