Delve into the arts with a tour that explores a variety a mediums and masterpieces, including a chance to make your own. Discover creativity and custom works at a museum, explore a 400+ acre sculpture park, and marvel at urban canvasses in downtown districts. Let us take you into the heart of the arts in Butler County, Ohio.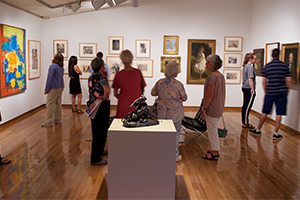 Miami University Art Museum
Tour rotating galleries of the spectacular Miami University Art Museum in Oxford. This museum has more 10,000 pieces in its permanent collection, and has 5 rotating galleries showcasing artists from Rembrandt to Warhol.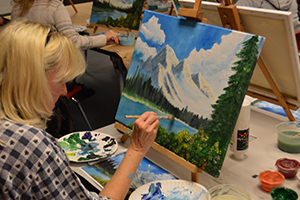 Fitton Center for Creative Arts
Fill your creative tank with a visit to the Fitton Center for Creative Arts, located in Hamilton. Learn a new technique and create something unique at one of their many classes. Try pottery, painting, photography, printmaking, and more with their talented teachers.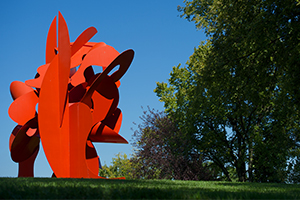 Pyramid Hill Sculpture Park & Museum
Discover art in nature at Pyramid Hill Sculpture Park & Museum where monumental sculptures dot the serene landscape. Enjoy a picnic lunch in the Pyramid House, followed by the fun of exploring via an Art Cart. A scavenger hunt throughout the park will help you to learn about the sculptures and the artists who envisioned and created them.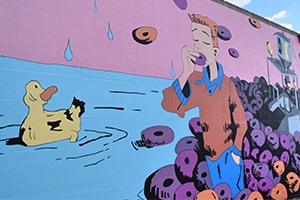 Mural masterpieces
Traveling through Hamilton you'll see a beautiful collection of art adorning the city's walls. Hamilton artist and resident, Stephen Smith, is the talented artist behind one of these murals. You'll make a stop at his bright, whimsical mural, entitled Make Way for McCloskey. You'll get the chance to meet the artist and hear Stephen talk about his mural that features larger than life donuts and McCloskey's special book characters.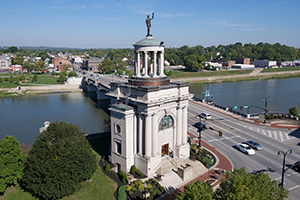 Soldiers, Sailors, and Pioneers Monument
The Soldiers, Sailors, and Pioneers Monument has a proud presence on Hamilton's South Monument Avenue. The history and stories that lie within its marble walls and stained-glass windows are immeasurable. It came into fruition to honor the men and women of Butler County who served in the Revolutionary, Indian, Spanish American, 1812, Desert Storm, and Mexican Wars as well as the first settlers of Butler County. Take a moment to marvel at the stained glass windows, depicting women's service in wartime, and "Billy Yank",  representing a Civil War private" a 17 foot, 3,500 pound bronze statue poised on type.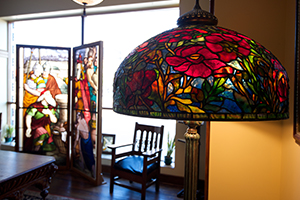 BeauVerre Riordan Stained Glass Studio
BeauVerre Riordan Stained Glass Studio in Middletown is the oldest continually operating stained glass studio in the country. Located in a historic building in the middle of downtown, BeauVerre Riordan specializes in stained, beveled, etched, painted, and fused glass. Glass artists will be on-site for demonstrations, and a featured gallery showcases one-of-a-kind glassware pieces.
This is just the beginning! We're to help with any and every aspect of your trip! We want to make this a memorable experience from the moment your group tour steps off the bus. To learn more about crafting your own creative day trip, contact Shawn Stidham at 513-860-4194 x 105 or Shawn@TravelButlerCounty.com.